Shoes that let you walk on water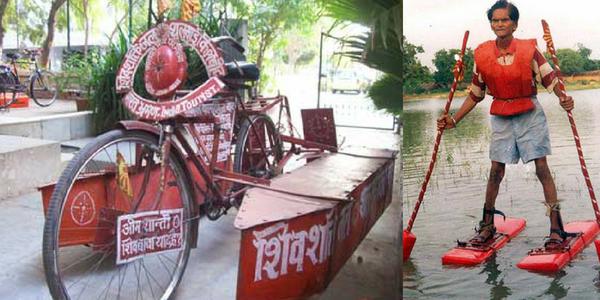 Dwarka Prasad Chaurasia was born to a farming family in 1932, in Gaughat Mohalla, Allahabad. He grew into a passionate traveler, and he would often go on trips. In 1972, he planned a solo cycling trip that covered most of the whole country.
The trip spread across three entire years, and it began in North India on the September 11th, 1975. However, in Jagadhari, Punjab, Dwarka found himself stranded due to the extremely heavy rainfall.
He had to make something to help him get around, and thus, he began crafting a prototype of an amphibious bicycle.
Dwarka began creating his prototype by attaching four empty cans of ghee to his bicycle at a pond. He worked on several permutations for about three months, and finally, he finalized a ready-made prototype of an amphibious cycle.
When he continued on his trip and visited places such as Kanpur, Delhi, and Ajmer, people were astounded and fascinated by what he had made. With throngs of people attracted by his incredible creation, Dwarka was encouraged to take his idea further. He wanted to try making amphibious shoes as well.
He decided to make them using thermocol, which he had heard was a floatable material.
In 1978, Dwarka finished his first prototype of his water shoes, with each one being five feet long and 4.5 inches wide. After several trials, the shoes morphed into their final design.
This design consists of two thermocol floats bonded to a rexine sheet. Each one is three feet long, 10 inches wide, and eight inches thick. The feet are held to the shoes by metal straps attached to the floats, and the shoes are tied together.
To balance, one must use oars. Nowadays, Dwarka's water shoes are widely popular both in India and around the world.
The popularity of his invention proves how innovation and problem-solving can create something groundbreaking.
Image Reference: YourStory, IndiaToday
Recent Posts

Kochi Metro launched a special Independence Day offer

Space Kidz India, an organization, unfurled the Indian

There are certain rules and customs duties for
What's new at WeRIndia.com