SheCup – A Revolutionary Menstrual Solution for women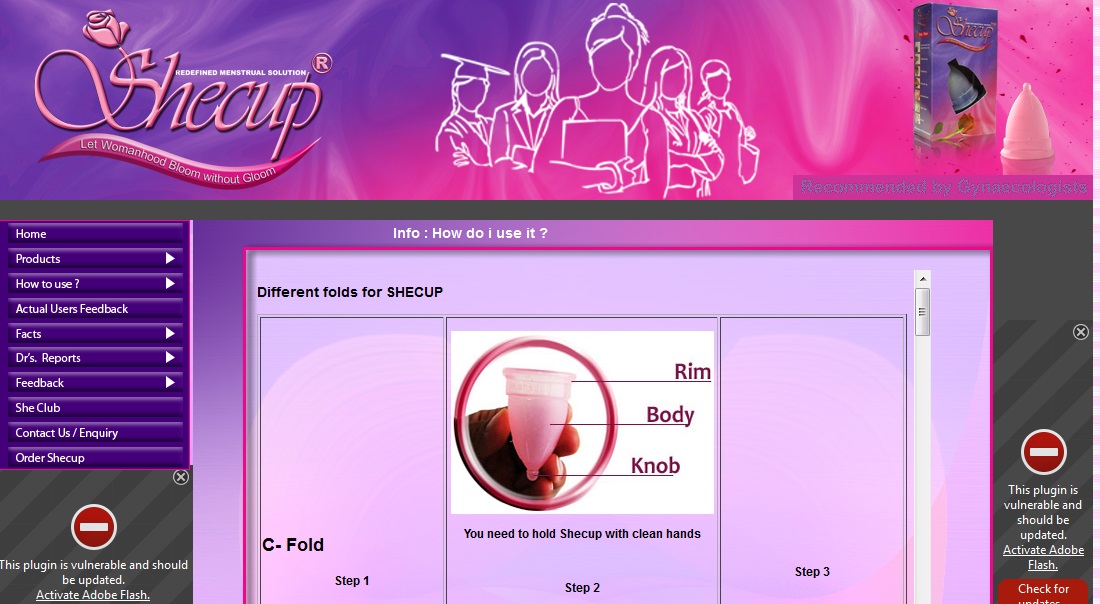 SheCup is a new concept of menstrual solution for women. Unlike traditional sanitary pads, SheCup collects menstrual blood when kept inserted in vagina.
Initially, one can feel it uncomfortable due to the unfamiliar use of the cups, but once get habituated, it will become easy for the use.
The company assures the product is more secure and hygienic than the regular sanitary pads. It states that SheCup has passed international norms.
Each pack of SheCup comes with a SheCup, a pouch to store it and a pack of 20 wipes to clean it along with instruction manual. It costs Rs.695 in India in addition to shipping charges for mail orders.
SheCup comes in one standard size. It is made of non-toxic and non-allergic Silicone. It has a rim, body and knob and can be worn by pressing and folding as per the given instruction.
The product should be used with clean hands. Repeated use is possible by cleaning it with the wipes provided with the pack before and after the use. SheCup wipes are soap strips and users can buy them if they needed.
Each pack of wipes contains 20 strips and can be purchased for Rs.100.
SheCup is stored after cleaning at the end of each menstrual cycle in a Khadi pouch which is provided with the pack.
Recent Posts

Amla Magic: 8 Ways Indian gooseberry transforms your hair

Here are 8 effective ways to incorporate Amla into your hair care routine.

BJP's Ishwar Sahu, a riot victim, triumphs in Chhattisgarh's Saja constituency

During the election campaign, Ishwar Sahu did not shy away from addressing the tragic events.

Bhopal's Sankat Mochan Hanuman temple dresses Gods in warm attire

In a unique and heartwarming gesture, the Sankat Mochan Hanuman Temple in Bhopal, Madhya Pradesh, has adorned idols of gods, including Lord Hanuman, Lord Ganesh, and Lord Shiva, with warm clothes to shield them from the cold winter air. A video capturing this thoughtful act shows the deities donning shawls and cozy attire inside the temple, reflecting a blend of spirituality and seasonal care.
What's new at WeRIndia.com