Science Ashram helps learn science aspects easily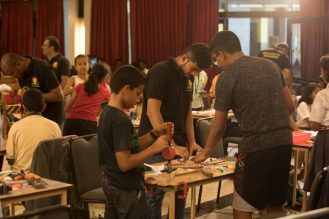 Normally Ashram refers to a spiritual place with a guru and his followers. Contrary to it, this Science Ashram is filled with an exciting environment and encourages children to learn science with fun.
Dhruva V Rao and Rohan Abhijit are the founders of this Science Ashram. Both these friends joined corporate jobs after finishing their engineering jobs. But within a couple of months, Rohan realized that the job was not interesting to him. However, Dhruva continued for some years.
At that time, one of their mutual friends asked them to help his cousin who was weak in maths and science.
Rohan helped her and she cleared her exams with good marks. This created interest in Rohan in teaching and he joined a school to teach Physics and Maths for three years.
Later, both Rohan and Dhruva decided to conduct many one-on-one sessions. After that, they established Science Ashram in Mysuru for children to explore science and learn with fun.
This Ashram helps develop critical thinking ability of students. Though children are excited to join in their classes, parents do not know how these classes improve their children.
Dhruva shared his experience on this. A parent of one of their students who shifted from Hyderabad to Mysuru wanted to have his son join. But none of the words of the duo could convince him.
Hence, the student was allowed to attend the classes for six months without paying any fees. After six months, the parent came to them and gave a cheque thanking them for the difference they have shown with their science classes in the Ashram.
Students from class 4 or higher are allowed to join the session. Each module costs up to ₹5,000 in which children can access around 22 sessions. Each session lasts for an hour. Children will have to work with different types of tools in these sessions.
Image Reference: Thebetterindia
What's new at WeRIndia.com