Rs.50 device gives voice to throat cancer patients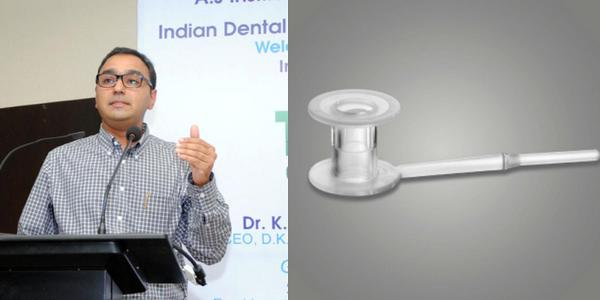 A new innovation by Dr. Vishal Rao has given hope to many throat cancer patients. He developed a voice prosthesis that can help throat cancer patients speak after surgery. Even though there are many devices for this purpose in the market, this device costs just Rs. 50.
There are patients of throat cancer who are unable to speak or eat after surgery for a very long period.
Many of them do not have enough financial power to buy the devices they want. With this new invention all it takes is a five minute procedure which lets the patient speak properly, swallow his food, and was even ready to travel back home. It is possible because of the innovation of Dr. Vishal Rao U.S.
The 37 year old doctor recalls a particular patient from Kolkata who was waiting for the doctor. The patient was overwhelmingly happy and ran and hugged the doctor, recalls Vishal Rao.
Dr. Rao is an oncologist and head and neck surgeon at the Bangalore-based HealthCare Global (HCG) Cancer Center. The device he developed is called the Aum Voice Prosthesis. It is a voice prosthesis device which can help patients whose voice box has been removed. It lets them speak and eat properly.
The devices which are currently available in market cost between Rs. 15,000 and Rs. 30,000. The devices have to be replaced every six months. Dr. Rao's prosthesis costs just Rs. 50. It is a device made of silicone. Even in cases of complete removal of the voice box in patient, the device can help them speak.
The windpipe and the food pipe are separated in these cases. The device is placed in the opening created. The food pipe is made to vibrate by the device which acts like the vocal cord with the prosthesis sitting at the food pipe.
Image Reference: Yourstory
What's new at WeRIndia.com