Rainwater harvesting and Solar Energy umbrellas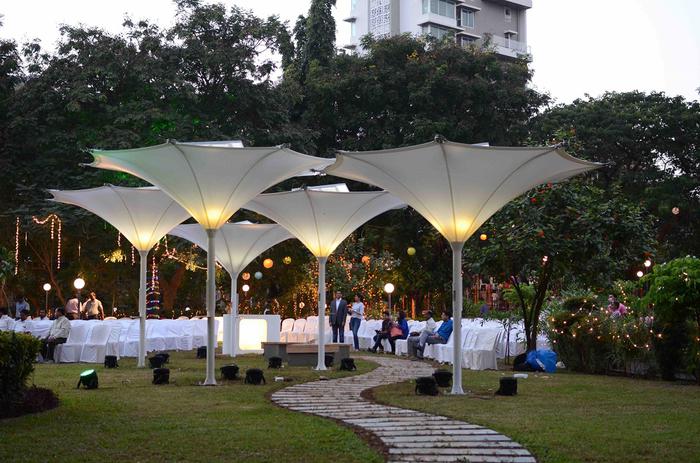 This couple has come up with a unique innovation to harvest both rain water and solar energy at the same time.
It is called the Ulta Chaata, an umbrella that can be used as a decoration and at the same time can be used to harvest rainwater and solar energy.
Samit Choksi, the co-founder of ThinkPhi, a green technology startup says that rainwater must be harvested because it is the purest form of water source. Once the water hits the ground, they lose their purity.
Hence this umbrella was made. The idea is to collect that water before it is ruined.
The company is about ecofriendly technology and products which can be used to harvest the natural energy sources of the world.
Ulta Chaata is the flagship product of the company.
Collecting rain water was not enough for the creators. They wanted to add more features to the umbrella.
This is the reason why Ulta Chaata comes with solar panels. The solar panels will be highly efficient in harvesting solar energy in the dry season.
This way, the umbrella can collect rain water in wet season and generate power in dry season.
Each unit of Ulta Chaata can collect 8-10 lakh quintal of water annually. When running at full efficiency in terms of sunlight, it can generate energy at a maximum peak power of 1.5 Kw.
The umbrellas are already set up at over 50 locations in the country.
As the name suggests, Ulta Chaata looks like an upside down umbrella.
The concave shape of the device is useful in maximizing the collection of water. The collected water goes through a filter to clear out any traces of dust in the water.
The water is filtered using the active carbon filtration method. Due to the activated carbon, all dust and impurities get removed completely.
The rest of the water is made potable easily by passing through Phi box, a device made for removing bacteria.
Each chaata takes about 1 square feet of area. Using about 10 units of these can result in a lot of water supply.
Image Reference: TheBetterIndia
Recent Posts

Online casinos that accept Indian players offer enticing

Uber rolled out a new service for its

There will be crypto exchange platforms to deal
What's new at WeRIndia.com