Prosthetic arm uses brain signals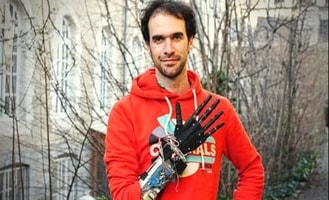 Dreaming big is not enough but trying to achieve them is important. Here is a motivational story of a college dropout who designed a low-cost prosthetic arm for differently-abled people.
Prashant Gade from Madhya Pradesh wanted to become an engineer to design innovative devices. He enrolled in an electronic engineering course.
His main focus was on innovative ideas rather than his grades. Whenever he got an idea he was approaching his professors.
But, his professors used to ask about his grades rather than focusing on his ideas which made him upset.
Disappointed by this, Prashant dropped out of college in his final year of graduation to pursue real – life learning.
While searching for a job, he came across a robotics course. He enrolled in that course. In that course, he had to finish a project. At that time, he came to know about Nicolas Huchet, a Bionico hand-maker who made a bionic arm for himself after losing his hand in an accident.
Then, Prashant began creating a prototype. When he was in Pune, he met a little girl who was born without arms.
He wanted to gift the girl prosthetic arms. But, knowing the cost, he was shocked. Almost all the companies across the globe quoted the cost at ₹24,00,000 for two arms.
Moreover, the little girl has to change these arms for every two years until she grows older.
Then, he began to research and came to know nearly 85 per cent of people who lost their upper limbs are living without finding any solution due to their poor condition.
He began designing a low-cost semi-bionic arm. With the support of some donors and his dedication to achieving his goal, Prashant invented Inali arms.
It is the most affordable bionic arm for the differently-abled people in the country which is priced at just ₹50,000.
Image Reference: Thebetterindia
What's new at WeRIndia.com