Portable Washing Machine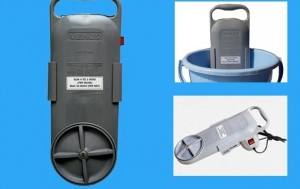 Have you gotten tired of washing clothes? Can't you afford a washing machine due to its cost? Don't worry. Here is a simple solution that puts an end to your problems. With this handy washing machine which can be available for just Rs. 1,500 in the market soon anyone can easily wash clothes.
The Portable washing machine Venus was designed by Piyush Agarwalla from Mumbai. Mumbai-based startup Vimbas Navrachna focuses on offering washing machines for everyone in India at affordable prices.
Venus is a bucket mounted washing machine which eases the difficulty of hand washing. Usage of this machine is very simple. Add detergent to a bucketful of water and mount this washing machine after loading the clothes into it. Users can wash upto 2.5 kgs load per 5 minutes wash cycle. Piyush Agarwalla says this machine is very useful for women in rural areas and low income groups as it not only saves times but also helps treat problems like shoulder and back pain associated with hand washing.
The company manufactured around 100 to 150 washing machines and sold each of them for Rs. 2,500 initially.  The company had earlier planned to launch the machine for mass market at Rs. 1,000 as it aimed to achieve Rs. 30 lakh through crowdfunding campaign. Yet it has received only 5 percent of the amount and hence it marked the machine Venus at a price of Rs. 1,500. It will hit the market by April, 2015.
What's new at WeRIndia.com