Paddy-filling machine helps labourers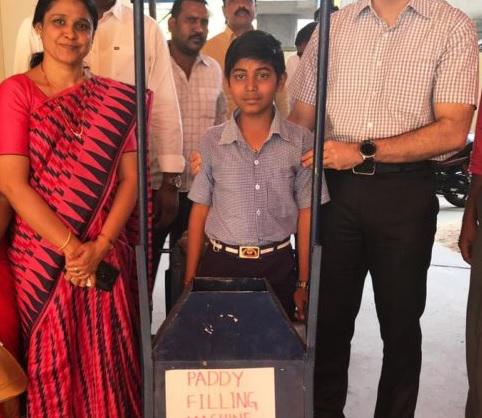 There are many labourers in agriculture who work hours to earn their daily bread.
Rajavva is one among them who used to work constantly by filling gunny bags with grains. As a daily labourer, she has to meet her daily quota.
There are many others also who work along with her.
Observing the tedious work of Rajavva, her son Marripelli Abhishek wanted to do something for his mother and daily labourers like her.
His idea is to help daily labourers like his mother fill gunny bags faster with less effort.
This 13-year-old boy from Telangana was guided by his teacher in cultivating his idea to a prototype and designing a working model.
Abhishek designed a paddy-filling device which reduces the manual labour after some trials and errors.
His paddy-filling machine is made of metal and has an opening on one side. There is a lever for the paddy to be collected in the inlet attached to it. Then, the lever is tilted completely for grains to slide on the other side where the gunny bag is attached to be filled.
Abhishek is studying class VIII in a Zilla Parishad School. With his prototype machine, he participated in the National Level Inspire Science Exhibition (NLISE) held at IIT-Delhi.
He won the third prize at the NLISE and was awarded cash of ₹10,000 in addition to a laptop.
His machine has two wheels, iron pipe rods, an iron-sheet, and a weighing machine. It costs between ₹5000 – 7000.
Akun Sabharwal, an IPS officer from Telangana appreciated Abhishek and advised to improve his design by providing some suggestions.
He also gifted the boy with ₹10,000 worth robot doll and rolled out the machine to be tested at few paddy centres in the state. If the experiment is a success, then the paddy-machine will be used at 4,000 centres across Telangana.
Image Reference: Thebetterindia
What's new at WeRIndia.com