Organic manure factory at just Rs.800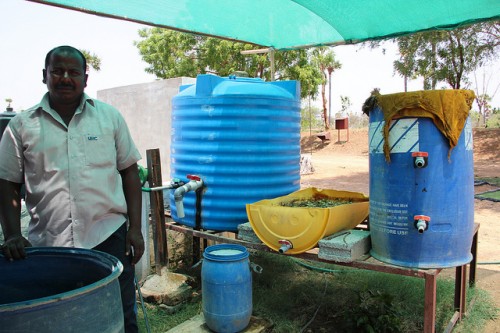 An innovative farmer in Chennimalai has come up with an idea which helps farmers create their own liquid manure out of cow dung and urine. The cow dung and urine is rich in Nitrogen and Phosphorous which are very helpful for plant growth. Many farmers look for expensive manure from outside rather than use the cow dung in their farms.
Four years past, with a little documentation support from the MYRADA Krishi Vigyan Kendra in Gobichettipalayam, Erode district (Tamil Nadu), India's farming fraternity recognized farmer G. R. Sakthivel's efforts in successfully exploiting cattle refuse to form liquid manure to feed his crops.
After years of careful observation and designing, he came up with an inspiration to recycle garbage and excretion from his farm. He designed a 4-compartment unit for this purpose. First, the ground of the cattle shed was diagonal to direct the excretion into a channel. This excretion drained into a group tank.
Next the dung was removed manually from the ground. The collected dung-urine mixture was allowed to settle and filter stage by stage within a compartment. The method resulted in a nutrient-rich filtrate.
He diluted this filtrate and used it to directly irrigate his sugarcane fields using drip lines. The dung residue wasn't wasted either. It had been directed into the bio-gas manufacturing facility that converted the waste into methane gas to fuel the family kitchen.
Image Reference: Thebetterindia
What's new at WeRIndia.com