Mud House – A cool house for summer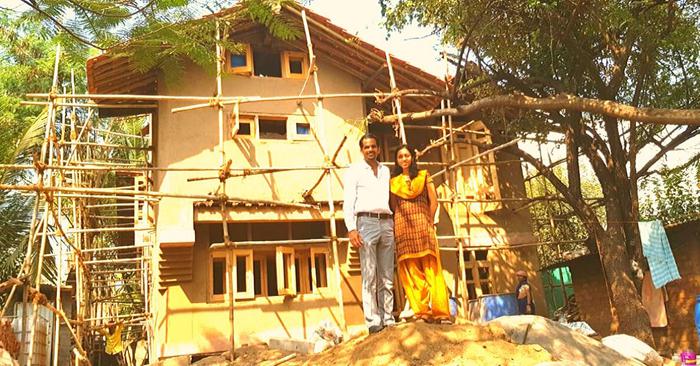 Anvit Phatak and Neha, a couple from Pune had a plot where they wanted to build a house. They decided to build a mud house as it will be cool even in the summer.
The couple almost finished their two-storey mud house and within a few months, they would shift to their new home.
Anujna Nutan Dnyaneshwar is the architect who designed the house. She built three such homes in Maharashtra.
The living space in the mud house is built with sun-dried adobe bricks. RCC beams have been used to support the load of the structure on the walls.
The walls are made of rice husk and mud. The foundation of the house is done with stone and mud.
The roofing is finished with timers and bamboo with Mangalore tiles. Except below the adobe walls and above the ground, cement is not used anywhere.
The house is mainly built with eco-friendly materials. Thus, it saves a lot of cement and other industrial material.
The doors and windows have one RCC band at the top for load-bearing of the mud walls.
Toilets are constructed with baked bricks in cement mortar.
The bricks are arranged in a vertical position to create a cavity within the wall. This method is called 'Rat Trap Bond' method.
One can use a microwave, fridge, washing machine etc. in the house.
This mud house does not need a fan or AC as it can keep the room temperature low.
Normally, air is hotter in summer even with ceiling fans as the air in the ceiling area is warmer. As a result, people feel suffocated and arrange table fans or standing fans to get cool air.
But, this mud house is built with eco-friendly materials and can keep rooms cooler than normal homes.
This house is cost-effective as well. Thus, mud house is a good alternative for the people as well as the environment.
Image Reference: Thebetterindia
What's new at WeRIndia.com