Modified cycle Rickshaws to help pullers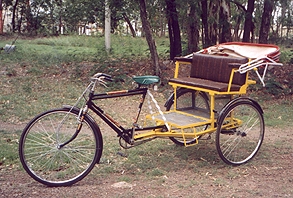 Dr. Anil Rajvanshi's another amazing invention is helping the many rickshaw pullers to make their lives better. His invention will make it easier for pullers go through every day work. His electric rickshaws can be converted into a bed for the driver so they can rest after a tiring job. The rickshaws are also easy to use for disabled pullers.
Anil Ravanshi saw many pullers struggle during his childhood. Now he is the director of Nimbkar Agriculture Research Institute (NARI) in Phaltan, Maharashtra. He started working on methods to make the lives of rickshaw pullers easy. He came up with a solution which is easy to be carried out and cost effective.
Dr. Rajavnshi recalls that during his childhood it was horrifying to see one man exert so much physical labour for the transport of others. With his NGO and team, he modified the regular cycle rickshaws into electronic rickshaws.
He designed four different models since his research. The first one is Improved Pedal Rickshaw which had three speed gears to make it easier to pedal. The second Motor is the Motor Assisted Pedal Rickshaw which reduces the manual labour. The third one is the Electric Rickshaw which uses electricity to run and uses 40 percent less energy than petrol and diesel operated vehicles. The fourth model is the Motor Assisted NARI Handicapped Rickshaws which are made to help handicapped people drive the Rickshaw.
Image Reference: thebetterindia
Recent Posts

Amla Magic: 8 Ways Indian gooseberry transforms your hair

Here are 8 effective ways to incorporate Amla into your hair care routine.

BJP's Ishwar Sahu, a riot victim, triumphs in Chhattisgarh's Saja constituency

During the election campaign, Ishwar Sahu did not shy away from addressing the tragic events.

Bhopal's Sankat Mochan Hanuman temple dresses Gods in warm attire

In a unique and heartwarming gesture, the Sankat Mochan Hanuman Temple in Bhopal, Madhya Pradesh, has adorned idols of gods, including Lord Hanuman, Lord Ganesh, and Lord Shiva, with warm clothes to shield them from the cold winter air. A video capturing this thoughtful act shows the deities donning shawls and cozy attire inside the temple, reflecting a blend of spirituality and seasonal care.
What's new at WeRIndia.com