This mat can prevent human stampedes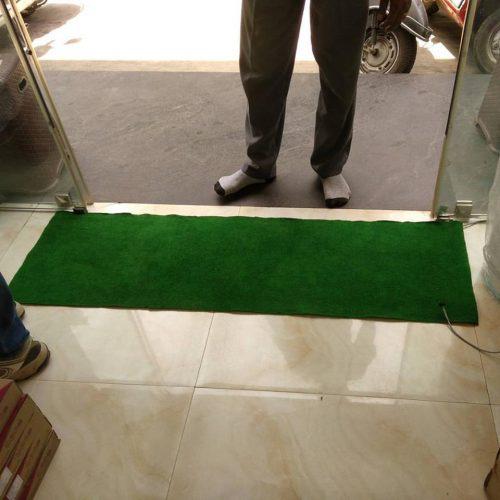 Nilay Kulkarni was only 14 years old when he began developing software. He instantly fell in love with it, since to him, it was the same as designing a physical product, just without any of the real-world limitations.
In 2013, Nilay saw a real-world problem that alerted him to action: the news of 39 people dying in a stampede during the Nashik Kumbh Mela.
The Kumbh Mela is known for being the largest gathering of pilgrims in the world, and while this is a spectacular symbol of Indian culture, it is also a gigantic challenge in both planning and execution.
It is difficult to make the temporary city safe for its residents, and it is just as difficult to control the chaotic crowds and stampedes.
To help the pilgrims of the Kumbh Mela, Nilay went to KumbhaThon in 2014, which was organized by MIT Media to bring together innovations that could help Nashik during the Kumbh Mela.
Nilay wanted to work toward crowd control, and he found a team of people with the same interests.
Together, they built the Ashioto mat, an electronic, pressure-sensitive rubber mat that can count footfall.
The data collected from this mat can be used to discern what patterns of footfall would lead to a less dangerous crowd density.
To test out the Ashioto mat, they visited a popular local temple and observed its effectiveness, before they approached the local authorities.
The authorities were impressed by the idea, so they decided to first try it out during the Shahi Snan on the Godavari River.
The Ashioto mats proved to be a success, helping the police make some effective crowd-routing decisions. In the 2015 Nashik Kumbh Mela, a similar exercise was carried out.
The team built an app that could make real-time data from the Ashioto mats available on the mobile phones of stakeholders, such as on-field police officers.
With the success of these Ashioto mats at the Kumbh Mela, Nilay expresses how these mats could be used for crowd control and crowd safety in many other situations, such as concerts, malls, and even railway stations.
Image Reference: Thebetterindia
What's new at WeRIndia.com