Lemon Cutter for Uniformly sized Lemon Pieces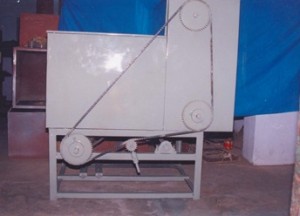 It is difficult to cut lemon into uniform size pieces while making a pickle. Have you ever wondered about a machine that cuts the lemons into small and uniform pieces while making a pickle? Here is a solution.Lemon Cutter eases your effort in cutting lemons into pieces in bulk quantities in uniform sizes.
It is designed by a small workshop owner M. Nagarajan.  He is from Uslampathy village in Tamilnadu. He won Biennial Award for this amazing innovation. This machine is very useful for pickle making industry.
Lemon cutter can cut 160 lemons per minute or 450 kilograms of lemon per hour. The machine is capable of cutting lemons ranging in size from 0.75 inches in diameter to 2.5 inches in diameter with uniform size pieces. Each lemon can be cut into a maximum of 16 pieces. There are options to cut it into 4 or 8 pieces. It consumes less electricity; approximately a unit per an hour of operations. The machine improves the yield with minimal wastage and saves labour cost since only one person is needed to operate it. Moreover, it enhances hygiene as the machine is made of stainless steel. The cost of the machine is Rs. 2, 85,000
What's new at WeRIndia.com