Kerala government converts old RTC buses into food trucks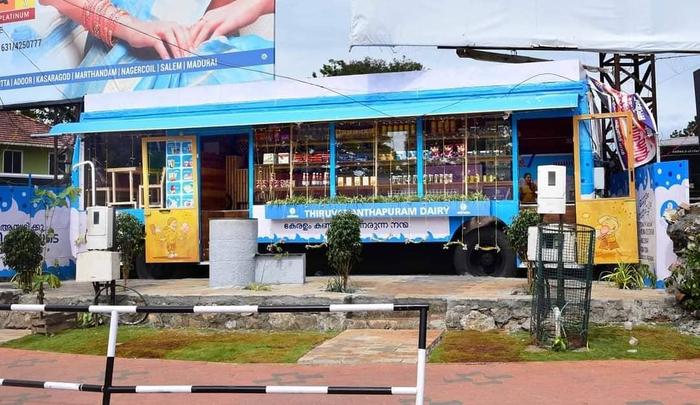 To utilize old buses innovatively, the Kerala government decided to convert old buses into mobile food trucks.
With this new initiative, the old Kerala State Road Transport Corporation (KSRTC) buses will get a new shape.
The Kerala government established the first food truck in Thiruvananthapuram in association with Milma or the Kerala Cooperative Milk Marketing Federation (KCMMF). More such food trucks will be set up by the government soon.
Chief Minister Pinarayi Vijayan said that KSRTC is reaching the people with an innovative project, 'Food Truck'. Under this project, old buses will be turned into new sales outlets.
Rather than destroying the old buses, KSRTC decided to reuse the buses in a novel way. The new initiative also helps generate more employment opportunities.
Reports say that KSRTC has more than 500 old buses to be converted into food trucks.
The life of each bus is approximately 20 years. However, they last only 13 years. After that, generally, KSRTC sells the old buses for scrap for around ₹75,000.
But, now the Corporation decided to turn them into food trucks rather than selling for scrap.
This novel idea can help minimize the losses on the sale of buses as scrap. Besides, the food trucks will add more value to them.
This new idea will attract more public to visit food trucks so that they can be operated profitably.
In addition to that, they generate more employment opportunities. Thus, one idea helps the Corporation gain in many ways.
The old buses will be modified to be used as food trucks. The useful parts of buses like engine, radiator, and axels can be used in other buses. These food trucks will be parked near KSRTC bus stands.
Image Credit: Everything Works on Facebook
Image Reference: https://www.facebook.com/permalink.php?id=234671837217382&story_fbid=614086519275910
What's new at WeRIndia.com