Innovative device to pluck fruits easily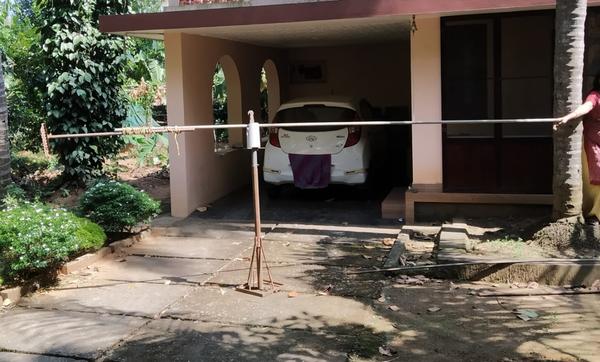 Often it is difficult to pluck fruits from tall trees as the process involves huge efforts.
This Kerala professor made an innovative device to pluck fruits simply and easily. His device has multiple uses. He applied for the patent.
Dr A M Ranjith was a former professor at Kerala Agricultural University. When Ranjith wanted to pluck the jackfruit from the trees in his backyard, he used the device to pluck fruits pain and stain free.
He said that plucking jackfruit is not an easy thing. If it falls on anyone's head while plucking, then it could be a painful thing.
He said that he escaped from the mishap of falling fruit on his head several times. His colleague could not escape it and had jackfruit fall on her. However, she sustained some bruises.
He also added that a person had to bear a lot of pressure on the shoulder and back when plucking the fruits due to pulling of heavyweight of the pole. The weight even prevents a person from being accurate.
Dr Ranjith then decided to design a device that puts the least pressure on the shoulder, hands and back. He also wanted his device to be usable even by a small child comfortably without any pain.
That's why he made the tool with which he plucks the fruits simply. The tool works on the principle of a dynamic fulcrum.
It is a small device which can be attached to a pole or stick with the help of a hook. The hook can be rotated a full circle and the device can be directed to the fruit without any pressure on the shoulder or hand.
In addition to plucking fruits, his tool has multiple uses like cutting branches, douse fires at very high places and save someone from drowning.
The device costs between ₹500 and ₹1,000.
Image Reference: Thebetterindia
What's new at WeRIndia.com