EzySpit helps turn spit into fertilizer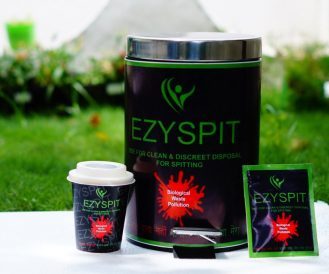 Spitting in public places is a common practice in many places in India. Several people consume pan masala, gutka etc. and spit on the roads here and there.
But, it is a punishable offence now. The Union Home Ministry issued orders on this and many states are also implementing the rule in their areas.
EzySpit can help people who are habituated to spit in public places and can't 'resist' spitting.
EzySpit, a portable eco-friendly spittoon was designed by Ritu Malhotra, Prateek Malhotra and Pratik Harde from Nagpur.
The trio noted that the negligence of spitting on the roads leads to many health conditions like Tuberculosis.
Unlike any other waste material, spit may add contagious content to the air.
Hence, they wanted to find out a solution to this practice. The designed EZySpit and launched the world's first Spit Pack. It is an eco-friendly technology which solidifies the liquid waste of spit within seconds while killing the bacteria in it.
Amazingly, the solid gets converted into fertilizer within three to four days. It can be used for your plants and garden.
These pouches can save millions of litres of water that are being used to clean the stains of pan masala and gutka.
They can also prevent contagious diseases like TB, Swine Flu, Pneumonia, seasonal influenza and COVID-19.
The spittoons are available in different varieties of packs. The normal pouch is priced at ₹5 and can hold up to 15 spits. The pouch for cars is priced at ₹10 and can be used for 30 times.
One can get 25 kg of homemade fertilizer with an investment of ₹50. You can use it for your garden or can sell to farmers for ₹4 per kg.
EzySpit has associated with Central railways, Nagpur, Nagpur municipal corporation and many hospitals. It has orders worth ₹6 crores.
The product was designed around two years ago. But, in the wake of COVID-19, the company's orders almost doubled.
Image Reference: Thebetterindia
What's new at WeRIndia.com