Eye testing for just ₹50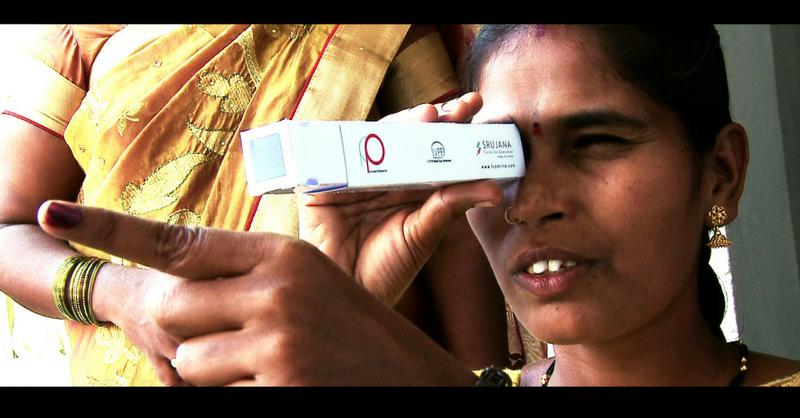 A new and simple technology has been developed by the non-profit L V Prasad Eye Institute.
It is a simple piece of instrument that can be used by anyone to test the severity of refractive errors of eyes.
Using this instrument, one can easily find out if they need to visit an eye doctor or get glasses.
A team from L V Prasad Eye Institute (LVPEI) in Hyderabad developed the innovative 'Folding Phoropter'.
The phoropter helps in testing different lenses to find the refractive errors of the eyes.
In the human eye, both myopia (nearsightedness) and hyperopia (farsightedness) are caused by refractive errors.
This is a simple origami based device.
This means, almost anyone can assemble it easily says Ashish Jain, head of the project.
A phoropter is a common device used by every optometrist.
It is used to test which lens fits best for particular eyes.
While this fold-able phoropter is not a replacement for an eye doctor, it will make it easy to know who needs to visit a doctor.
After checking one's eyesight in this device, one needs to go to the doctor for further diagnosis.
The device is especially useful for people living in rural areas.
They are low cost so it can be afforded by almost everyone.
The device idea came from a hackathon called 'Engineering the Eye,' by BITS Hyderabad in 2013.
The first prototype of this device is made from plastic.
Later, it was developed as in-house innovation by a team at LVPEI.
Despite the device working well, its scalability and affordability were the problems.
Dhruv Joshi, Technical Head of the Innovation Center at LVPEI suggested the team to use a paper body instead of a plastic one.
They took inspiration of using a paper body based on a microscope made of paper by Stanford professor Manu Prakash.
Image Reference: Thebetterindia, DeviatingEye, Schaeffer Eye Blog
Recent Posts

The Uddhav Thackeray-led government decided to reopen schools

This farmer is earning lakhs of rupees by

Kala Bhairava temple in Ujjain, Madhya Pradesh is
What's new at WeRIndia.com