Edible cutlery in India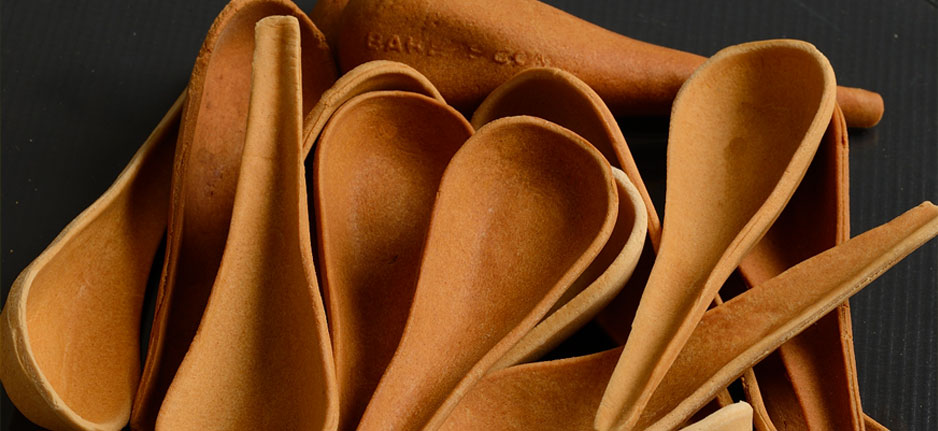 In order to combat the harmful effects of plastic and also save the environment, Narayana Peesapati came up with a new kind of cutlery. It is the edible cutlery which is becoming very popular nowadays.
The 48 year old is the founder and Managing Director of Bakey's Food Private Limited. He says that he always felt guilty when he travelled to many places and saw plastic cutlery which caused a lot of plastic waste. He wanted an alternative.
Narayana has been developing it since 2010. Now, Bakey's manufactures edible cutlery. This includes various spoons in different shapes. They even make chopsticks!
Their edible cutlery is made from a mix of jowar (sorghum), rice and wheat flour. The advantage of these spoons and chopsticks is that they do not get soggy when placed in water and food. It takes 10-15 minutes for the cutlery to get soft. Once they get soft, they can be easily eaten at the end of the meal. If the cutlery is discarded without eating them, they get decomposed after five to six days.
Narayana got this idea when he was on a flight from Ahmedabad to Hyderabad. He saw a fellow passenger eating dessert using a piece of Gujarati khakra. Now his idea has become quite successful.
Image Reference: Thebetterindia
Recent Posts

Amla Magic: 8 Ways Indian gooseberry transforms your hair

Here are 8 effective ways to incorporate Amla into your hair care routine.

BJP's Ishwar Sahu, a riot victim, triumphs in Chhattisgarh's Saja constituency

During the election campaign, Ishwar Sahu did not shy away from addressing the tragic events.

Bhopal's Sankat Mochan Hanuman temple dresses Gods in warm attire

In a unique and heartwarming gesture, the Sankat Mochan Hanuman Temple in Bhopal, Madhya Pradesh, has adorned idols of gods, including Lord Hanuman, Lord Ganesh, and Lord Shiva, with warm clothes to shield them from the cold winter air. A video capturing this thoughtful act shows the deities donning shawls and cozy attire inside the temple, reflecting a blend of spirituality and seasonal care.
What's new at WeRIndia.com