CookFresh Enables a Hassle Free Cooking for Amateur Cooks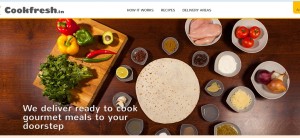 CookFresh was established in 2014 in New Delhi. It is the first food delivery service in India to help amateur cooks by eliminating shopping and preparation for ingredients while making a recipe.
Most of the times, it is a difficult task to buy and prepare the necessary ingredients to make a recipe. Often, these difficulties make the cooks avoid trying certain recipes. But, with CookFresh, one can easily afford any recipe they want easily. Though it is a startup company, it is becoming famous because of its novel concept.
Users can choose their desired recipe on the website and the required quantity. All orders are delivered on the same day before 7 pm if they are placed before 2 pm. The orders placed after 2 pm are delivered within 24 hours. They have no holiday. Their services are available on all week days. Payment can be done by Payment Gateway method or cash on Delivery.
The great thing in their services is that all the ingredients for a receipt are designed by master chefs and are delivered to home as ready to cook along with recipe card. There is no need to cut vegetables or meat. Thus, cooking is now easy with their services even for armatures who have no experience in cooking. All orders are shipped free if the minimum order amount is Rs 299. Their serveries are only available in New Delhi and Gurgaon at present.
What's new at WeRIndia.com