Bluecat Paper – A tree-free paper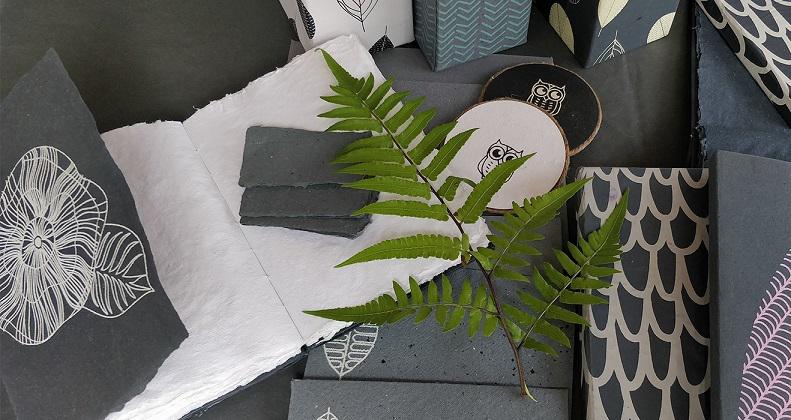 Instead of using papers, many people prefer alternate methods like digital modes to save trees. Yet, the paper has its own significance.
You cannot imagine a world without paper. But, several hectares of forests are damaged for papermaking.
It leads to deforestation which makes the wildlife in dense forests homeless. It also impacts the environment adversely.
Hence, Kavya Madappa came up with an innovative solution. She made a paper without using wood.
She does not want to cut trees for papermaking. Hence, she explored ways to find out alternatives for making tree-free paper.
In research, she found that pulp and water are essential to make paper and the pulp that has more than 68 per cent cellulose is ideal for it.
She then started her venture, Bluecat Paper to make papers without cutting trees.
Instead of wood, secondary agro-waste and other industrial remaining like flax, lemongrass, cotton rags, rice stubble, banana stump, coffee husk and coconut husk and many such items are used for papermaking by Bluecat Paper.
She procures these waste materials from farms as well as factories. She chooses the items with a higher percentage of cellulose than tree fibre.
She also says that chemicals are used to make paper white and thin in the paper industry. But, her startup does not use them.
More than 20 tonnes of secondary waste is collected from farmers and factories each month to make tree-free papers. Bluecat Paper pays a reasonable amount to them for this.
Thus, Bluecat Paper is saving the trees in one way and preventing these waste materials from ending up in landfills.
The upcycling of the waste saves not just wood but also around 55,000 litres of water per day.
Kavya learned this handmade papermaking process in Jaipur. Within 15 days, she learned several aspects related to papermaking without wood.
Bluecat paper can make 5,000 sheets of paper per day compared to five lakh tonnes of paper made by conventional paper mills. But, Kavya hopes for better future expressing her happiness on saving trees, water and environment.
Image Reference: Thebetterindia
What's new at WeRIndia.com