Bengaluru gets second vertical garden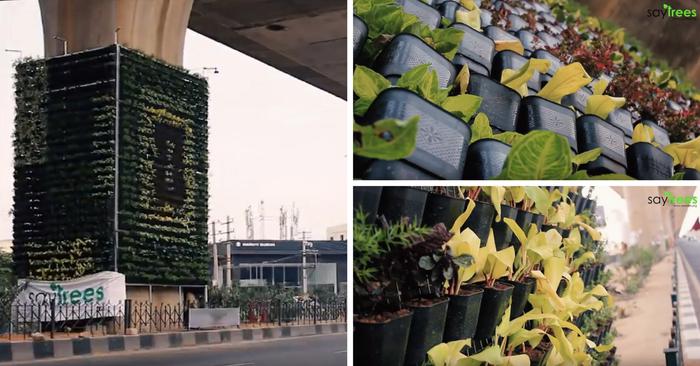 Around the world, industrialization and technology are rapidly advancing and spreading. While this helps society move forward economically, it provides several drawbacks, such as an increase in pollution.
Some time ago, Mexico City began a green initiative to counter the effects of pollution. Now, in India, Bengaluru has taken inspiration from Mexico City and is striving to do something similar, hoping to live up to the title of India's "garden city".
Last Tuesday, a second vertical garden was finished on a Metro pillar of the Electronic City Expressway, under the overpass above MG road. These are the first steps in a larger initiative to make the city both cleaner and prettier.
A non-governmental organization called SayTrees undertook the project, as an attempt to lessen the effects of pollution in Bengaluru.
Their overall goal is to raise people's environmental awareness through various plantation drives, and this is one of their largest projects to date.
Durgesh Agrahari, the head of partnership and projects at SayTrees, says that the particular goal of this project is to reduce the effects of air pollution by providing more fresh, clean air, and also to improve the aesthetic of the city with these beautiful plants.
They specifically used plants that could endure the harsh, fume-filled environment of the city, but could also still look appealing and pretty.
SayTrees first did a pilot project, in which 90% of the saplings they tested were able to endure the city conditions. They then went forward with the real project soon after.
Now, after the first vertical garden was put on the MG Road overpass a few months ago, a second garden has also been put up on a nearby pillar.
More vertical gardens like these are soon to come in the future, giving Benglauru a makeover in both its aesthetic and cleanliness.
Recent Posts

Shubham Saini runs a tea stall named Frustrated

Airtel and Jio already said that 5G services

Buns & Deluchas is a Mumbai startup that
What's new at WeRIndia.com