Amazing innovations of Rural Telangana man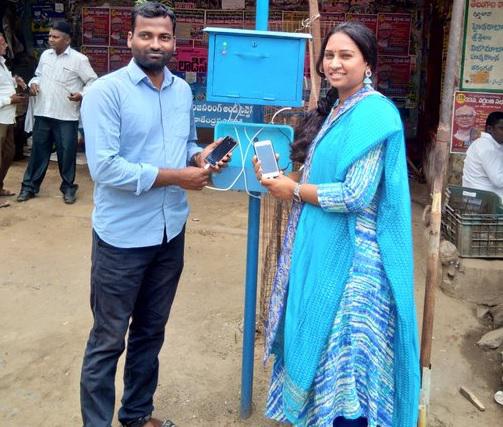 Mupparapu Raju from Warangal Rural in Telangana is renowned for his innovations. This B.Sc. graduate developed several innovations.
He designed sensor street lights, solar weeder, and solar-powered sprayer.
In addition to that, in 2018, he developed a solar-powered mobile charger to solve the mobile charging issues and set up at the premises of Collector office in Hanamkonda. The charger can charge eight mobiles at a time.
He used solar panels, USB connectors, battery, and charging circuit to make this fixed solar charger by spending ₹10,000. It is fixed onto a pole and comes with box and a tray to keep the mobile phones.
Now during the pandemic time, Raju developed foot-operated handwash machine. The machine dispenses water and liquid soap. It contains a 500-litre water tank and 5-litre container to dispense liquid handwash. More than 1,000 people can wash their hands if the tank is full.
The machine has an iron frame and two pedals, one is for water and another is for liquid soap. These pedals are connected to taps.
Water and liquid soap come out of the tank when the pedals are pressed by the users. Raju received several orders for developing such machines from various government offices. The machine costs ₹15,000. Raju said that he just gets ₹1,000 profit on selling each unit.
Besides, he developed a device equipped with Light Dependent Resistor (LDR) and installed in 120 panchayats and Warangal Municipality.
It reduces the wastage of electricity by shutting off the main system that controls street lights by detecting the presence or absence of lights.
This device has a photosensor which is attached to the system. Raju claims those meters fitted with his device can reduce at least 30 per cent consumption of electricity. It costs around ₹3,500.
Image Credit: Mupparapu Raju on Twitter
Image Reference: https://twitter.com/mupparapuraju
What's new at WeRIndia.com