Ugadi Rituals and Customs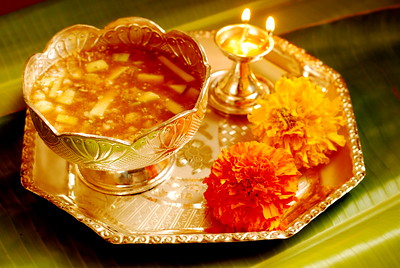 Tomorrow is Ugadi, the beginning of Vasant Navratri. This festival is celebrated by people in various states throughout the country with great devotion and fervour. The festival has numerous names in different states. Ugadi is celebrated in Andhra Pradesh, Telangana and Karnataka. It is celebrated as Gudipadwa.
The festival of Ugadi is celebrated on the first day of the Hindu month of Chiatra, which generally falls in March or April. Plenty of rituals and customs are associated with this festival.
Ceremonial bath is done early in the day. It is the body and head massage with oil which is followed by a shower. This process is believed to cleanse both the body and mind. Wearing new clothes invigorates the body.
Enchanting mantras for the family welfare and society facilitates the thought of well-being for others as well.
Ugadi Pachadi is the special recipe made on this auspicious occasion. It is made with neem flowers, raw mango pieces, salt, chilli powder, new jaggery and tamarind, and it is very good for health. Ayurveda believed the importance of neem flowers which can prevent at least 20 types of conditions in the body. The other ingredients used in the recipe are also very beneficial for health.
The Pachadi is made with six types of tastes like sweet, salt, spice, sour, tanginess and bitter. It is believed that these tastes represent various inner feelings of human beings which include happiness, fear, anger, disgust, surprise and sadness.
Recitation of almanac or Panchanga Shravanam is another popular ritual. It is nothing but astrological predictions for all zodiac signs and in all fields of the country in the coming year. It is performed by Brahmins at the temple.
Those who want to provide free water for the people start their activity on this day. The free water camps will continue in all summer months or till they can do so.
Reference: Wikipedia Hindupad
Image Credit:- "Happy Ugadi!" by Kalyan is licensed under (CC BY-SA 2.0)
Image Reference: https://www.flickr.com/photos/35581095@N00/4436864363
Recent Posts

Whether you hunt ducks or large games such

Last month, Ola Electric initiated the booking process

Currently, only front-line health workers and certain government
What's new at WeRIndia.com