Significance of Raksha Bandhan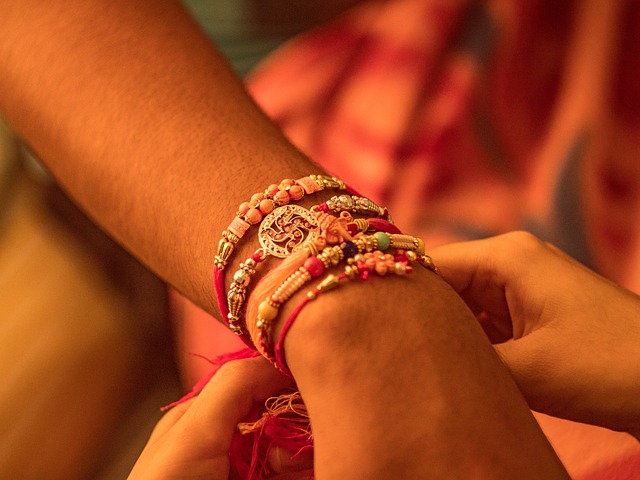 Today is Raksha Bandhan or Rakhi Purnima festival. This festival is celebrated in many parts of India with great joy and love. The festival of Raksha Bandhan or Rakhi falls in the month of Shravan Purnima. Sisters tie Rakhis or threads that are believed as holy on the wrists of their brothers by praying for their happiness and well-being. In return to the affection and love shown by their sisters, brothers vow their protection. They vow to protect their sisters.
The word Raksha means protection. There are many tales about Raksha Bandhan. Though the origin of Rakhi is not exactly known, this festival is believed to be very ancient and is from the times of the Puranas.
Raksha Bandha festival has religious significance. Sachi, the wife of Indra tied a holy thread to her husband's wrist when he was feared about the victory in the war between Gods and demons.
In another tale, Goddes Lakshmi tied a Rakhi to Bali, the demon king to free her husband from the palace of Bali who was living there upon the request of the Demon King. Bali accepted her request as a gift for tying Rakhi. It was also believed that Draupadi tied Rakhi to Lord Krishna. Krishna protected her whenever she needed his help and prayed to him.
Raksha Bandhan has a historical significance as well. Porus, the king of Kaikeya kingdom restrained Alexander the Great in the battleground when Roxan, the wife of Alexander sent a Rakhi to king Porus requesting him not to harm her husband. In another historical event, Rani Karnavati sought the help of Mughal Emperor Humanyun to protect her country against the invasion by Bahadur Shah, the Sultan of Gujarat by sending a Rakhi.
Whatever tales are associated with the Rakhi festival, it is celebrated with great joy among brothers and sisters. The festival symbolizes the token of love and affection between the brother and sister.
Girls and women not just tie Rakhis to their own brothers, but to brother-like friends also. Even though it is not related to any religion, many rituals are associated with this festival. Sisters apply tilak on the forehead of their brothers and perform aarti. They pray for their brothers' well-being as well.
Foto di Shantanu Kashyap da Pixabay (Free for Commercial Use)
Image Reference: https://pixabay.com/it/photos/rakhi-rakshabandhan-india-2630652/
What's new at WeRIndia.com