Rules are same for Ambani and Comman man, says PM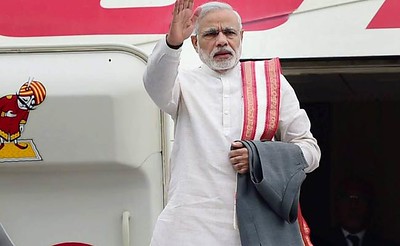 PM dissed comments from Congress that his government is a government of industrialists by showing that businessmen of Industries have stated quite the contrary. He asked the media to combine the two opposing comments regarding him and his government. He stated that the congress has blamed his government of being pro industrialist and ignoring the common men while the industrialists say that the government has done nothing for them.
He stated that there should be no red tape. He explained that this means that it shouldn't be there for someone like Mukesh Ambani and be there for a common man. He added that it shouldn't be there for anyone.
When asked about the comments that some of his colleagues have made and the controversy they caused, PM Modi has stated his disapproval towards them and stated that he could not be expected to make public clarifications or statements every time something like that happened.
Modi has been quite hopeful regarding his tour to France, Germany, and Canada. He stated that "These three countries have great relevance to our development process and growth; Canada is rich in hydrocarbons and other natural resources; Germany has a manufacturing and skill base; and France is our dependable strategic partner".
Image Credit:- "Narendra Modi" by Jhon Don  is licensed under CC BY 2.0.
Image Reference: https://www.flickr.com/photos/146931246@N07/29542111756
Recent Posts

Amazon's first all-women delivery station in Andhra Pradesh

Codeine is used to treat pain.

Soluble fibre also helps reduce LDL cholesterol.
What's new at WeRIndia.com