PM Modi surprises on Yoga day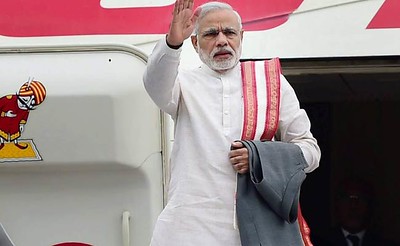 Indian Prime Minister Narendra Modi has called the beginning of the International Yoga Day as a new era of peace. Right after he said that, he took a mat himself and celebrated the day by performing yoga.
The PM led over 35,000 people, which includes bureaucrats, students and soldiers, performing poses like the half camel and cobra during a 35-minute mass outside yoga session starting at 7:00 am on the wide Delhi Boulevard of Rajpath.
Organisers hope the event qualifies for the Guinness Book of World Records for the biggest yoga category at a single venue. And India sets two Guinness World records with the first international yoga day: the largest number of participants and the largest number of nationalities have participated in a single yoga event. The largest number of people i.e. 35,985 have participated at the Rajpath yoga event. And people from 84 countries have participated in the event.
PM Narendra Modi has stated to the crowd that Yoga is more than physical fitness shape. He added that this is not just about solely celebrating a day but rather regarding the training of human mind to start a brand new era of peace.
In this speech, he thanked the United Nations for adopting his idea for a World Yoga Day. He added that this is a programme for human welfare, a tension-free world and a programme to spread the message of goodwill. The prime minister has worn a crisp white outfit with a national flag scarf. He even credited his ability to walk for long hours on little sleep to yoga.
Image Credit:- "Narendra Modi" by Jhon Don is licensed under CC BY 2.0.
Image Reference: https://www.flickr.com/photos/146931246@N07/29542111756/
What's new at WeRIndia.com