Lotus blooms again, BJP to retain power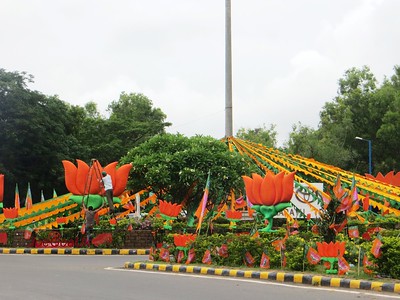 As predicted by the exit polls, the lotus blooms again and the saffron party is coming to power with a huge majority.
This is a landslide victory for the Modi-led BJP.
As the BJP wins 347 seats, the National Democratic Alliance (NDA) is all set to continue its power for the next five years.
The BJP has shown a remarkable victory since the beginning of the counting process.
In 2014 Lok Sabha elections, the BJP alone won 282 seats and crossed the magic figure comfortably. But, now the BJP has won nearly 350 seats. Rajiv Gandhi won 414 seats in 1984 soon after the assassination of Indira Gandhi, the former Prime Minister and his mother.
This is the biggest victory since the 1984 elections. In 2014 also, the BJP won historically by winning the biggest majority of its own that a non-Congress party attained in the 67-year history of independent India.
In 2014 elections, BJP won 72 seats out of 80, but now it has won 64 seats. BJP retained its performance in Hindi heartland states like Madhya Pradesh, Chhattisgarh and Rajasthan as earlier elections by winning 28, 9 and 25 seats respectively.
In West Bengal, the TMC won, 34 of 42 seats in 2014, but in this election, the BJP has given a tough fight to Mamata Banerjee. The TMC has won 22 seats whereas the BJP secured 18. In Delhi, BJP wins all 7 seats. In Gujarat also, the saffron party clean sweeps by winning all 26 seats.
Similarly, BJP won 28 out of 40 seats in Bihar, 12 out of 14 in Jharkhand, 7 out of 10 in Haryana and 2 of 2 in Goa in 2014 elections. In these elections, the BJP has secured 39 seats in Bihar, 12 in Jharkhand, 10 in Haryana and 1 in Goa.
Image Credit:- "BJP National Executive meet" by Joegoauk Goa  is licensed under CC BY 2.0.
Image Reference: https://www.flickr.com/photos/joegoauk73/8968254993/
Recent Posts

The government rolled out the ONDC initiative in

The function of the salivary gland is impaired

Shubham Saini runs a tea stall named Frustrated
What's new at WeRIndia.com