Agni Keli – Unique ritual followed in Mangalore temple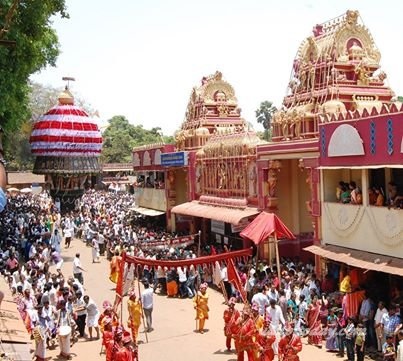 India is a land of temples. There are many unique temples here. Some temples have unique rituals. Here is a unique ritual followed by devotees in a Karnataka temple.
Agni Keli or Thoothedhara is also known as the Fire Fight. It takes place in April each year at the grand festival held at the temple. This unique ritual is followed at the Kateel Durga Parameshwari Temple in Mangalore, Karnataka.
Durgaparameshwari Temple is located on an islet in the middle of the river Nandini. It is one of the oldest temples in Kateel.
The festival commences on the night before Mesha Sankramana Day. It continues for eight days. Devotees observe fasting during the festival. They refrain from the consumption of alcohol and also from meat.
As part of the Agni Keli ritual, male devotees and the temple heads take a holy bath in the ghats before sunrise. They wear saffron colour dhotis and are bear-chested.
Men are divided into two groups, facing each other. They throw burning palm fronds at each other from a distance of 15 meters.
Each one is allowed to throw five fronds to hit others. With the given fronds, they can hit as many as from the opponent group.
Personal attacks are not allowed. Referees who wear white sarongs monitor the event carefully to make sure that nobody will attack the opponents personally.
The ritual lasts for 15 minutes. Devotees believe that the ritual will please Goddess Durga. After that, devotees walk toward the temple. They continue throwing fire fronds for another five minutes there.
If anyone is injured during the ritual, holy water is sprinkled on them. It is made with saffron and turmeric.
Many people visit this place to watch the event. They watch it from a safe distance.
Image Credit: Shailesh CAPTCHA / CC BY-SA 4.0, via Wikimedia Commons
Image Reference: https://commons.wikimedia.org/wiki/File:Kateel.jpg
What's new at WeRIndia.com