US requests India for Hydroxychloroquine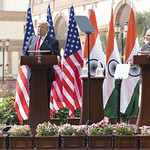 Hydroxychloroquine, the anti-malarial drug has been proved to be effective in the treatment of COVID-19 to some extent.
ICMR recommended Hydroxychloroquine to healthcare workers who are treating COVID-19 patients as a preventive measure.
In this context, India banned the export of Hydroxychloroquine to avoid shortage of this drug in the country.
India is a global leader in manufacturing active pharmaceutical ingredients (APIs) and generic drugs.
APIs are used to manufacture a wide range of drugs including sedatives, painkillers, anti-malarial drugs, inhalers etc.
As India banned the export of 26 APIs and drug formulations in March due to the outbreak of novel coronavirus, several countries including the US, UAE and SAARC requested to ease the ban to avoid shortage of various drugs.
Hydroxychloroquine is a multipurpose drug which is used in the treatment of several diseases including autoimmune diseases.
US President Donald Trump called Prime Minister Narendra Modi on Saturday and requested the supply of Hydroxychloroquine tablets to the US.
He said that India may consider the request of the US and release the medicine.
Trump also said that India is manufacturing many tablets for its billions of people as they need it. In this context, some tablets would be released through Strategic National Stockpile for the treatment of COVID-19 patients in the US.
PM Modi on Twitter said that both India and US agreed to utilize their full strength to collectively fight COVID-19.
Modi expressed his condolences for the people who lost their lives due to COVID-19 and wished the speedy recovery of people who are suffering from it in the USA.
As of Sunday, there are more than 3 lakh coronavirus positive cases in the US and more than 8,000 people have died due to it.
Image: The White House – Public domain
Image Reference: https://www.flickr.com/photos/whitehouse/49583812117
What's new at WeRIndia.com