MOM completes 1000 days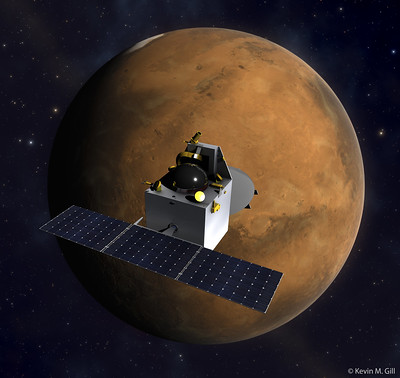 The Mars Orbiter that India had launched back in 2013 was only expected to last one hundred and eighty days, or about six months, after it reached the planet.
Yet, after having completed one thousand Earth days, or about four years, of orbit around Mars, the orbiter is still functioning perfectly well.
MOM is continuing to take pictures and send them back to Earth, and seems to have enough fuel left to extend its life for even more time.
The spacecraft continues to function in excellent health, showing firstly that there seems to have been no fuel lost, and secondly, that the craft supposedly survived the journey in perfect condition.
The pictures that MOM provides continue to broaden our understanding of Mars, each one providing a new view of the planet. Therefore, the Indian Space Research Organization (or ISRO) is using the experience gathered from this orbiter to use for further expeditions out in space.
Therefore, Dr. K. Sivan of the Vikram Sarabhai Space Center, based in Thiruvananthapuram, has announced that the new craft Chandrayaan-2 is scheduled to be launched around March or April of next year. Additionally, the Aditya mission is scheduled to launch either sometime next year or in 2019.
This mission of MOM had a cost of about ₹450 crore, one of the cheapest missions ever. It was launched with equipment designed to scan the surface of Mars and examine the mineral makeup of the planet.
It was also launched to scan the atmosphere of Mars for the presence of methane, which would be an indicator of life outside of Earth.
It has five main instruments, and its most prominent, the color camera, has produced a total of seven hundred and fifteen images.
Although the orbiter has had a rough journey, having experienced both a blackout and a whiteout in its lifetime, it is still running strong, and ISRO is expecting it to continue its mission for still more years to come.
Image credit: Mars Orbiter Mission Over Mars image by Kevin Gill is licensed under CC BY 2.0
Image Reference: https://www.flickr.com/photos/kevinmgill/15237158879/
Recent Posts

The government rolled out the ONDC initiative in

The function of the salivary gland is impaired

Shubham Saini runs a tea stall named Frustrated
What's new at WeRIndia.com