Mann Ki Baat kiosks coming in 8 cities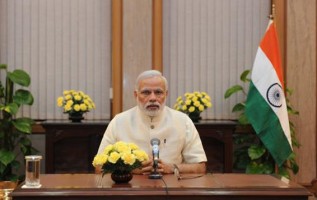 In order to improve the public participation in Prime Minister Narendra Modi's Mann Ki Baat program, the government is setting up kiosks in cities. The government has already set up a toll-free helpline and a website. These kiosks are the next step in improving public participation.
According to the PM's aides who are handling Mann Ki Baat, there has already been an increase the number of youth from a wider regional base calling in with their suggestions on the toll-free number.
The PMO green lit the use of kiosks in cities to increase number of suggestions from public. These kiosks will be set up in cities before each broadcast. Here people can make calls and get a grassroots feel of pressing issues.
In this month, the government is set to install kiosks in eight cities – Haridwar, Gorakhpur, Indore, Puducherry, Dehradun, Udaipur, Bhilwara and Chennai, according to an aide. The aide says that this is not about political potshots but about anecdotes and people's opinions. He added that this is the main rule of Narendra Modi for the monthly 'Mann Ki Baat' broadcast.
In his recent addresses, the PM mentioned new social security schemes, efforts to mitigate drought and undisclosed income scheme.
The aides of the PM said that these mentions are important innovations which have a positive impact on the society. They also talked about the efforts of non-BJP states like Karnataka, Andhra Pradesh and Telangana and how they got prominent mention in the PM's addresses.
They said that the PM wants Mann ki Baat to not be about day-to-day governance matters. Mann Ki Baat gets about 50,000 calls every month on the toll-free helpline and about 5,000 online suggestions along with 1,500-odd comments on the Narendra Modi Mobile Application. There are also about 1,200 physical letters to All India Radio (AIR) for this program.
Image Credit:- PM's Mann ki Baat on Radio image by Narendra Modi is licensed under CC BY-SA 2.0
Image Reference: https://www.flickr.com/photos/narendramodiofficial/16632746415/
What's new at WeRIndia.com