Why Indo – Russian relations are important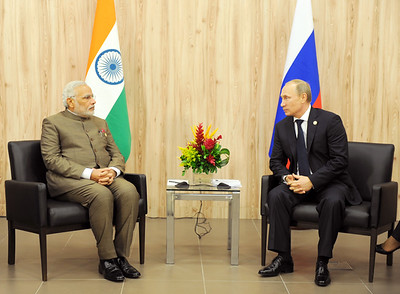 Indian Prime Minister Narendra Modi has arrived in Sochi, Russia, for an informal summit with Russian President Vladimir Putin.
Russia has been a strong partner of India for quite a while, and this partnership has well withstood the test of time.
Both of these countries have a long history behind their military, economic, strategic, and diplomatic relationship.
Both India and Russia have contributed toward the enhancement of cooperation in the fields of economics, space, defense, politics, anti-terrorism cooperation, and civil nuclear energy.
There are a number of reasons why Russia's partnership with India continues to be so significant, and these are some of those reasons.
One reason why India and Russia's partnership is so significant is the bilateral ties between the two countries.
President Putin and former Prime Minister Atal Bihari Vajpayee signed the "Declaration on the India-Russia Strategic Partnership" in October of 2000.
This declaration has set the tone between India and Russia ever since, and it has been the basis for the two countries strengthening their bilateral interactions.
Another significance of India and Russia's partnership is Russia's increasing closeness to Pakistan. When India began growing its ties with the United States, Russia, in turn, grew closer to Pakistan.
In 2016, Russia and Pakistan held their first joint military exercise. This happened despite India's request to postpone it, due to the terrorist attacks that had happened in Uri.
If Russia keeps close ties with India as well, this could be very significant for India's own relationship with Pakistan.
India and Russia's relationship is also significant because of the military partnership between the two countries. During the past five years, Russian hardware represented 62% of India's total weapon imports.
Between 2008 and 2012, Russian hardware represented 79% of India's total weapon imports. Also, some of India's legacy weapons are of Russian origin. In order to keep these legacy weapons operational, India must maintain defense ties with Russia.
Image credit: PM meets Russian President Vladimir Putin in Fortaleza image by Narendra Modi is licensed under CC BY-SA 2.0
Image Reference: https://www.flickr.com/photos/narendramodiofficial/14996282625/
Recent Posts

Shami or Jand tree is one of the

Telegram supports numerous platforms like Android, iOS, Windows

The government decided to launch a track and
What's new at WeRIndia.com