Impose heavy fines in Delhi: SC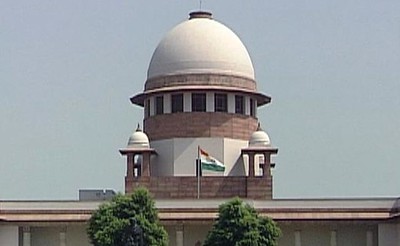 As the pollution is increasing in the Nation's Capital day by day and the air quality index (AQI) reached 'severe', the Supreme Court ordered authorities to impose heavy fines on construction and demolition activities, garbage burning etc.
In this context, the court opined that imposing fines on those whose activities lead to pollution would help reduce it.
The court ordered to impose a fine of ₹1 lakh on persons who violate the ban on construction and demolition activities and garbage burning, and a fine of ₹ 5,000 on dumping trash in Delhi-NCR.
The Odd-Even scheme was started in Delhi from yesterday to curb the pollution.
In this regards, the court also told the government to produce the data or records to prove that pollution has been reduced in Delhi by the implementation of the scheme.
Saying that the state governments are responsible for the pollution, the court slammed them that they are just making a mockery of everything.
The courts also directed the governments of Delhi, Punjab, Haryana, and Uttar Pradesh to make sure that no power cuts should take place to avoid usage of diesel generators.
The court said that while Delhi is choking every year, nothing has been done to curb the pollution. It has become common in the region as pollution continues for 10 to 15 days each year. This is not done even in the most civilized countries.
Pollution deteriorates the lives of common people. Right to life is the most important thing and governments should not ignore it.
People indoors are also not safe. The court called the pollution atrocious.
The apex court slammed the government for failing to control the pollution due to which several people in the NCR region are facing several troubles.
Image credit: supreme-court-650-400_650x400_71461841002 image by BMN Network is licensed under CC BY 2.0
Image Reference: https://www.flickr.com/photos/152975694@N02/36004822620
What's new at WeRIndia.com