Exchange ₹2,000 notes without requisition slips: SBI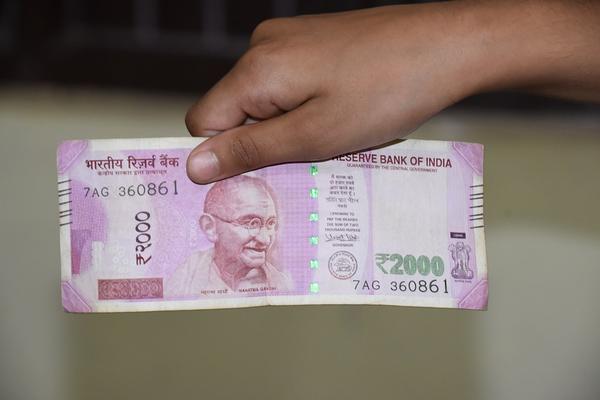 The Reserve Bank of India (RBI) has announced the withdrawal of ₹2,000 notes from circulation.
It urged people to exchange or deposit them in their bank accounts by September 30.
After that, various speculations and misinformation are spread on social media.
In this context, the State Bank of India (SBI) clarified that exchanging or depositing ₹2,000 notes would not require any requisition slip. It has issued a guideline to all its branches.
The SBI reiterated that up to ₹20,000 worth of ₹2,000 notes can be deposited or exchanged at a time.
The clarification comes in response to false claims on social media stating that a form and identity documents such as an Aadhaar card would be necessary for exchanging the banned notes.
As per sources, individuals can exchange ₹2,000 notes up to ₹20,000 any number of times in a day.
People simply need to stand in a queue and can return to the same queue after exchanging their money; there are no restrictions on rejoining the queue after exchanging or depositing the notes.
Starting May 23, the RBI's regional offices and other banks will begin accepting ₹2,000 notes for exchange with lower denomination ones.
The ₹2,000 notes will remain legal tender, as confirmed by the RBI.
It has been stated that the deadline of September 30 may be extended if necessary. Even if someone possesses a ₹2,000 note beyond the current deadline, it will still be considered a valid tender.
It is important to note that one does not have to be a customer of a bank to exchange the soon-to-be-discontinued currency.
Non-account holders can also exchange ₹2,000 banknotes up to a limit of ₹20,000 at any bank branch.
The RBI has clarified that no fee is required to avail of the exchange facility. It instructed banks to make arrangements to minimise inconvenience for people in the exchange process of ₹2,000 currency notes. Especially, for people like senior citizens and people with disabilities, some arrangements are required.
According to the RBI, approximately 89% of the ₹2,000 denomination banknotes were issued before March 2017. It highlighted that ₹2,000 notes are not commonly used for transactions.
Image by Prasanta Sahoo from Pixabay (Free for commercial use)
Image Reference: https://pixabay.com/photos/note-indian-rupees-currency-cash-4128733/
What's new at WeRIndia.com