Constitution day on November 26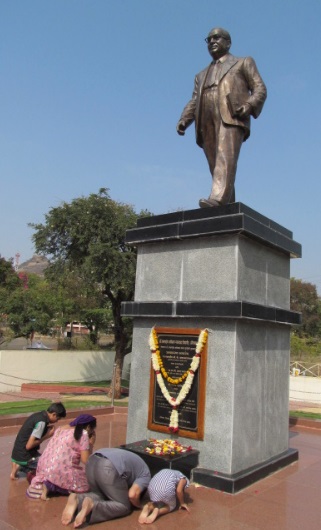 November 26 will be observed as the Constitution Day of India aimed at spreading awareness about the constitution. The day celebrates the constitution of India and Dr Ambedkar who formulated it. As the day is coming up soon, take a look at some facts about it.
1. November 26, 1949 is the day when India adopted its Constitution. It came into force on January 26, 1950.
2. Even though it is a very long document, the Constitution of India was not typeset or printed. It was completely handwritten and calligraphed in both English and Hindi.
3. Library of the Parliament of India now houses the original copies of the Constitution of India. They are kept in special helium-filled cases to preserve them.
4. There is a title for Indian Constitution: 'a bag of borrowings'. That is because various parts were taken from various countries. They are:
a. From the French, it took concepts of Liberty, Equality and Fraternity.
b. From the USSR, it took the concept of five year plans.
c. From Ireland, the concepts of the Directive principles were taken.
d. From Japan, it took the law on which the Supreme Court functions.
5. Indian constitution has the record of being the longest written constitution of any independent country in the world.
6. There are 448 articles in 25 parts, 12 schedules, 5 appendices and 98 amendments in the constitution of India.
7. There were 284 members in the Constituent Assembly. Among them, there were only 15 women.
8. Even though the draft was submitted in November 1949, it took another three years to complete it.
9. January 24, 1950 marks the day when all 284 members of the Constituent Assembly signed the documents.
10. January 26 is the day when the constitution came into effect.
11. It was also the day when the national emblem of India was adopted.
12. There have only been 94 amendments in the Indian constitution making it one of the best constitutions in the world.
Image Credit: JAIBHIM5 / CC BY-SA 3.0
Image Reference: https://commons.wikimedia.org/wiki/File:People_paying_tribute_at_the_central_statue_of_Bodhisattva_Babasaheb_Ambedkar_in_Dr._Babasaheb_Ambedkar_Marathwada_University,_India.png
Recent Posts

Sudarshan Chakra symbolizes the centre of creation and

Amid the coronavirus pandemic, an artist made the

Organize your kitchen cupboards properly and neatly so
What's new at WeRIndia.com