Health Benefits of Chicory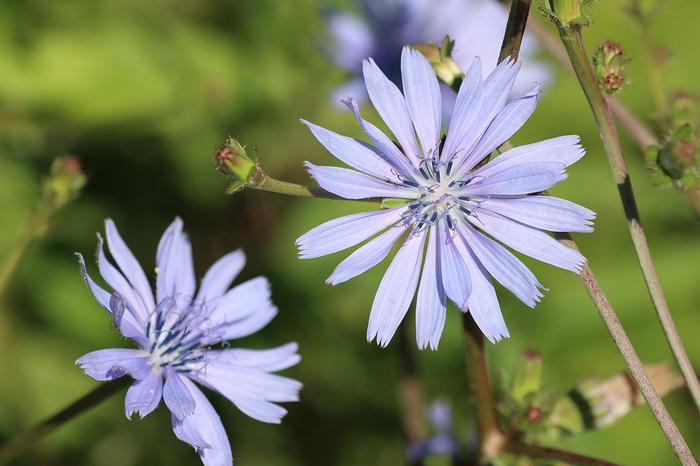 Chicory is used in chicory coffee. Chicory or Cichorium intybus plant has many medicinal properties. The leaves of chicory are used in salads.
The roots of chicory have many benefits. They are fibrous and appear like wood.
The fine powder made with the roots of the chicory is used as a substitute for coffee. It can be used in smoothies. You can even make tea with it.
Chicory has the following health benefits:
Chicory reduces LDL cholesterol levels in the body and thereby prevents the risk of high blood pressure. It is loaded with anti-thrombotic properties to improve heart health.
Being rich in fibre, chicory root can provide adequate fibre to your body to improve your digestive system. It also helps relieve gas, bloating, indigestion, heartburn and acid reflux.
Chicory is a good source of oligofructose and thus helps people who want to lose weight. It regulates ghrelin to prevent continuous hunger pangs and thereby overeating.
Some studies found that the inflammatory properties in chicory can effectively help reduce the pain in conditions like arthritis and osteoarthritis. It also alleviates muscle pains and joint pains.
It boosts immunity due to its antibacterial properties. It has polyphenols and antioxidants to prevent degenerative diseases and oxidative stress.
It is a diuretic and can increase your urine output to eliminate toxins from your body. It aids improve the function of kidneys.
Chicory also prevents cancers due to its antioxidants. It regulates diabetes. It treats constipation and liver diseases.
It improves skin health also. It treats anxiety and depression by the soothing mind. It regulates the sleep cycle and hormones.
However, pregnant women and breastfeeding mothers should avoid chicory. People who are allergic to marigold and have gallstones should also stay away from it.
Image by Roland Steinmann from Pixabay (Free for commercial use)
Image Reference: https://pixabay.com/photos/chicory-blue-blossom-bloom-flower-5219501/
Recent Posts

Yesterday, 100 monuments were illuminated in tricolour.

Meet an inspiring youth who is motivating many

Enter your Aadhaar number and date of birth
What's new at WeRIndia.com