Health Benefits of Cashews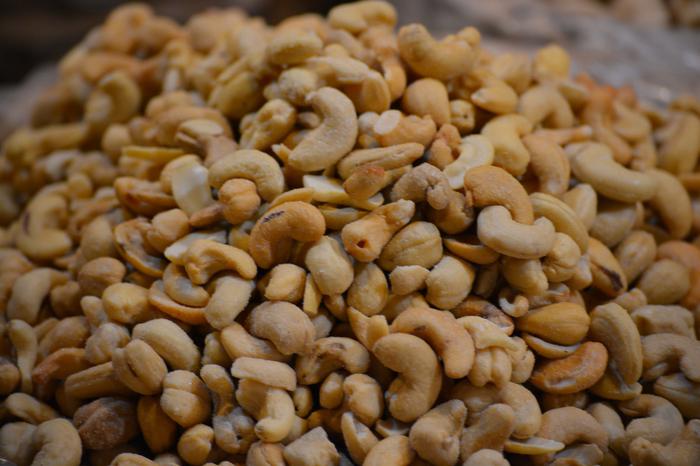 Cashews or cashew nuts are widely used in Indian cuisine especially in desserts, snacks and special recipes made with milk and rice. India is one of the largest producers of this crop following Nigeria. Even though, there are many dry fruits, but the delicious taste of cashews separated it from other nuts. There are many misconceptions about this nut leading to heart ailments by increasing bad cholesterol levels in the blood. But, they are not true. In fact, cashews are heart-friendly food as they contain abundant magnesium levels which improves its functioning and regulates blood pressure.
Like every food item, cashews should also be consumed in limited quantity. There are many health benefits with cashews.
40 grams of cashews contain 97% of daily required copper, 34% of phosphorus, 33% of manganese, 29% of magnesium and 21% zinc. All these are essential minerals for our body.
Proanthocyanidins are found in cashews. These are flavonols that inhibits the division of tumor cells. The high content of proanthocyanidins and copper in cashews help combat cancers especially colon cancer.
The magnesium in these nuts helps in growing healthy hair, nerves and bones.
The regular intake of cashew nuts lowers the risk of formation of gall stones by 25%.
Cashew nuts contain lower fat than many other nuts. Around 80% of the fat in these nuts is unsaturated fatty acids and nearly 70% of this constitutes of monounsaturated fats which is very beneficial for heart.
Like all other nuts, cashews are also rich in antioxidants which prevents free radicals and aging.
Cashew also help in controlling weight gain as they promote the HDL cholesterol and controls LDL, the bad cholesterol.
Photo by Yasileni from Pexels (Free for commercial use)
Image Reference: https://www.pexels.com/photo/cashews-668388/
What's new at WeRIndia.com