IndiGo introduces 6E Double Seat Offer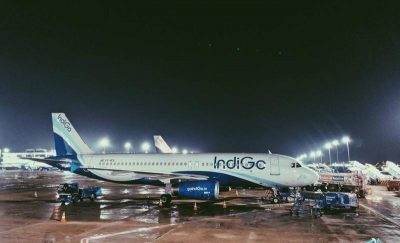 Air travel has been decreased due to fear of COVID-19. Many passengers feel that maintaining social distancing is difficult in flights, hence flight journeys drastically dropped.
In this scenario, budget carrier IndiGo introduced a new offer. The offer, '6E Double Seat' allows a single passenger to book two seats.
Booking of two seats ensures extra safety for passengers so that they can travel without any risk.
Here are some important points about 6E Double Seat offer:
A passenger can choose an adjacent seat as the 'double seat' available in a specific flight.
Seat selection is mandatory while booking a ticket under the 'double seat' scheme.
The offer will come into effect from July 24, 2020.
The charge for the extra seat will be effective up to 25% of the original booking price. Charges are dynamic.
No separate check-in baggage is allowed under the scheme.
Passengers can buy the tickets up to 24 hours prior to the scheduled departure of a flight.
The double seat scheme is available only on the company's website. Passengers can buy the tickets under this scheme through their website only.
The double seat cannot be transferred to any other passenger and cannot be encashed.
It does not apply to group bookings.
For more details, visit their website.
IndiGo is a low-cost airline. It is the largest airline in India. It has around 47.5 per cent of the domestic market share. Many passengers prefer to travel in Indigo flights due to its low-cost.
It is also the largest individual Asian low-cost carrier with respect to its fleet size and passengers carried.
Before COVID-19, it used to operate around 1500 flights daily to nearly 87 destinations.
Photo by Sridhar Rajini from Pexels (Free for commercial use)
Image Credit: Indigo website
Image Reference: https://www.pexels.com/photo/2749968/, https://www.goindigo.in/information/6e-double-seat.html?sdfsf
What's new at WeRIndia.com