This young boy is multi-talented, great achiever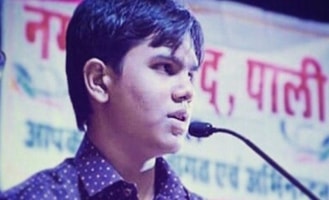 Music is his passion. It made him establish a company at a young age.
He is Shreyans Bokadiya from Rajasthan. His company Viya Music is giving an opportunity to many aspiring singers.
Being a multi-talented, this boy is not just the founder of the company, he is a music director and producer. He is inspiring many people with his motivational speeches and mentoring young talents.
Shreyans loved music since his childhood. He wants to become a music director. He chased his dream from 7th standard.
Shreyans was inspired by KC Bokadiya, the veteran filmmaker in Indian cinema.
So far he released 23 audio songs and 64 videos in which his talent was shown.
He launched his first song in several countries at once.
In order to bring young talents in music at a single platform, he set up Viya Music.
Everybody has a turning point in his/her life. Shreyans turning point came when he was studying 7th standard and was shifting from one school to another school.
As he has a passion for event management, he started exploring it. Within a year of his first venture, the Mrians production started. It was an event management company.
He got support from his parents and teachers. Shreyans interest in music has been growing. As a result, he conducted an event, "Voice of Pali". The program was a big success.
The Voice of Pali event got an excellent response not just from Pali but from entire Rajasthan as well. It was an exceptional platform for musicians.
Then Shreyans established Viya Music Private Limited to encourage young and new music talent.
In addition to that, Shreyans was also fascinated with the Jain religion. He founded Shree Jainpearls Pariwar. It is the most reputed Jain youth Religious Organization in the world.
Image Reference: Businessnewsthisweek
What's new at WeRIndia.com