US scientist that helped farming in India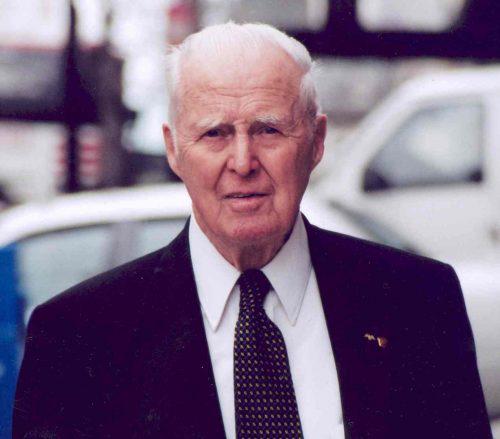 Having grown up in the Great Depression, characterized by so much suffering and hardship, famed American scientist Norman Borlaug knew perfectly well the conditions of poverty when he set out to help world hunger. It was his one goal from his childhood: to make sure none of the world has to go through what he experienced and saw during his younger years.
This is what motivated him to set off the Green Revolution in farming worldwide, dedicating his entire life to teaching the world how to feed itself. He is largely credited as the catalyst of India's own Green Revolution, which saved millions upon millions of lives across the country in the 1960s and 1970s, the decades shortly following the independence of the country.
Resulting from his contributions to people around the world, he won both the Nobel Peace Prize and the Indian moniker of Annadaata.
Borlaug's childhood was characterized by his life on his father's 106-acre farm, on which he would have continued his life had his father not insisted on him taking higher education. Although he initially failed the entrance exam to the University of Minnesota, he was luckily accepted into the two-year General College, which was still part of the university, thus earnestly beginning his higher learning.
Borlaug joined the Rockefeller Foundation in 1954, where he was put in charge of helping out wheat farmers in Mexico. During his time there, he began to develop varieties of wheat that were not only providers of a great yield, but also resistant to various diseases and pests.
Meanwhile, in India, the country had been struggling to feed its large and continuously growing population following its independence. However, Indian geneticist M.S. Swaminathan took matters into his own hands and insisted Borlaug be invited over to improve the conditions within India.
He was taken over in 1963, and would go into the fields every morning in his time spent there. While in India, he would incite discussions with scientists about the improvement of not just wheat crops, but crops of rice and chickpea as well, along with others. Swaminathan and Borlaug took off on a tour together around India's agricultural belt for him to better understand it.
Borlaug selected four varieties of wheat six months later that he felt would work well in Indian climate. However, from 1965 to 1966, in a period of severe drought, the country was struggling to feed its population and had to import 21,000,000 tons of wheat to feed them.
Sending out a distress call, India needed a miracle, and it got precisely that. Borlaug sent the seeds that had worked in Mexico, which both worked perfectly in Indian climate and were additionally resistant to rust, thus saving the population speedily.
For his help in India, Mexico, and other places worldwide, he received the Nobel Peace Prize in 1970.
He never truly stopped worrying about India either, right up until his death in 2009, saying there is never any time to relax, and to keep on working.
Image Reference: TheBetterIndia
Recent Posts

Pomegranate tea has many health benefits.

A succession certificate can be obtained only by

IIT Delhi launched eco-friendly charging stations at the
What's new at WeRIndia.com