Uravu empowers bamboo artisans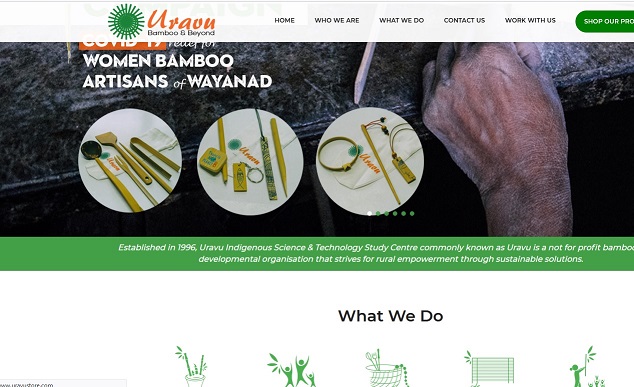 Uravu is a not for profit organization established by a couple to uplift bamboo artisans. The organization works with businesses and people to empower rural people through sustainable solutions. Uravu is located in Thrikkaipetta in Kerala.
The village is renowned for its rich sources of bamboo. Now, it has a global reputation due to a couple's initiative, Uravu.
Sivarajan T and his wife Sreelatha set up Uravu Indigenous Science and Technology Study Centre (UISTSC). UISTSC is commonly known as Uravu. It aims to improve the lives of artisans who depend on bamboo products.
The couple moved to Thrikkaipetta from Kozhikode in 1996. They observed that the usage of traditional bamboo products had been disappearing due to the emergence of plastic. They also noted that bamboo products were replaced with plastic products. The couple wanted to change the situation. They saw the adverse consequences of plastic on the environment. Besides, the artisans who depended on bamboo products had been losing their livelihood.
Bamboo is good for both the soil and the environment. At the same time, the restoration of bamboo products can improve the lives of artisans. Hence, Uravu emerged for training people in making bamboo products to improve their livelihood.
These artisans are given training on making products out of bamboo, from weaving baskets to building houses. Uravu works with many public and private enterprises to acquire funds and other resources.
Initially, the organization identified a few skilled artisans and trained them, who eventually became trainers. Thus, many people were trained through Uravu. Around 90 per cent of artisans trained are women. They are divided into self-help groups. These artisans are provided with raw material, technical and marketing support.
Now, more than 200 families are gaining through Uravu. Each self-help group member can earn up to ₹30,000 based on their skills. These beautifully handcrafted bamboo products are attracting global customers.
Image Credit: Uravu Website Screenshot
Image Reference: https://www.uravu.in/
Recent Posts

There are certain rules and customs duties for

Vitamin B12 is commonly found in meat, fish

These IIT students designed a water purifier that
What's new at WeRIndia.com