This girl makes pretty dolls with corn waste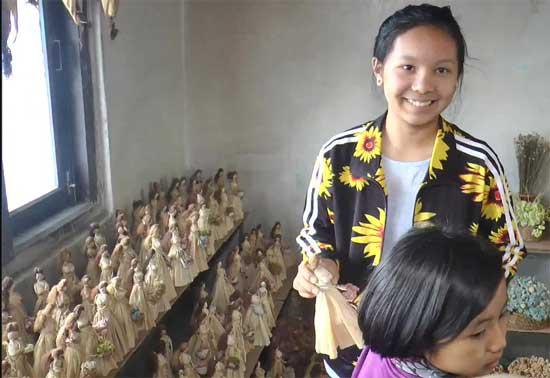 What do you do of the corn silk or husk after you eat kernel? Most people discard it after eating.
But, have you ever heard about the dolls that are made of corn musk and silk? Can you imagine earning money through them?
Do you want to have one such pretty doll in your home? Do you want to learn the art?
Neli Chachea from Manipur is making beautiful dolls with recycled waste like corn silk.
She is a florist by profession. She makes beautiful dolls from recycling waste and sells them in the market.
In addition to that, she also trains students in doll making and flower management at Mysore and Bhopal.
The body parts of the dolls are made from maize husks and the hair is made of maize silks. They are decorated with suitable dry flowers. These dolls are customized to the need of the customers.
She learned these skills from her mother. Her mother taught her in her childhood and she took it as a profession more than a decade ago.
Now, she became an expert and can make 10 to 12 dolls a day. Depending upon the design, the price of dolls ranges from ₹200 to ₹500.
Several people like her art due to her innovative designs and use of eco-friendly material.
She is selling her dolls in many parts of the country including Nagaland, Imphal and Mumbai.
She also exhibits her dolls at various art exhibitions. She expressed her wish to expand her business.
She participated in the 2nd International Flora Expo, 2007 at the Pragati Maidan, New Delhi which was conducted with the collaboration of Indian Flowers and Ornamental Plants Welfare Association.
The government of India honored her contribution as well for her skill.
Image Reference: Eenadu
What's new at WeRIndia.com