Teens create awareness through sand art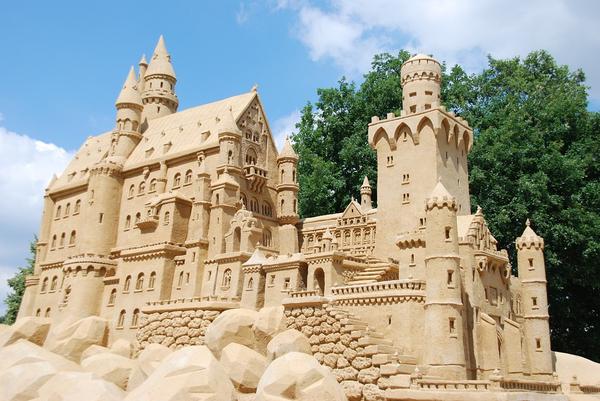 The world is full of young and talented individuals who are eager to showcase their skills and make a mark in their respective fields.
Two adolescent sisters from Rangampeta, located in the East Godavari district of Andhra Pradesh, are creating waves with their sand sculpting skills.
These sisters have been showcasing their talent on important occasions. They have already made a name for themselves in the sand sculpting world.
With their strong desire to achieve their goals, these sisters set an example for other young individuals to follow their passions and pursue their dreams.
Two young sisters from East Godavari, Devina Sohita and Devina Dhanyata, are making waves in contemporary sand sculpting.
Following in the footsteps of their father, Devina Srinivas, the young girls are showcasing their talent during important occasions. Devina Srinivas is a noted sand sculptor in the Telugu states.
They draw inspiration from world-renowned sand artist Sudarshan Patnaik. They also plan to meet him at the International Sand Festival scheduled to be held in Puri in December this year.
Focusing on women's empowerment, the sisters are carving thought-provoking sand sculptures. They showcase the courage and fearlessness of modern women and promote awareness of gender equality.
Rather than choosing themes that entertain people, they select themes that attract the attention of the public.
In addition, their themes question society on the issues plaguing the nation. Some of these issues are saving the girl child, crimes against women, and the woes of farmers.
Sohita and Dhanyata are studying in a local government school in Rangampeta. They are trained by their father.
It is a challenge to procure sand as the Kakinada coast is 40 km away from Rangampeta. But Srinivas is determined to support his daughters in their passion for sand art.
He hopes to open a sand art school in Andhra Pradesh, creating opportunities for creative souls in the Telugu states.
Srinivas himself became famous for his style of sculpting. He received laurels from the public for his recent work on creating awareness on World No Tobacco Day.
The siblings are leaving no stone unturned in carving out unique sculptures. Their focus on gender equality and women empowerment sets them apart from their peers.
They are indeed an inspiration to young people everywhere, showcasing how talent and creativity can be used to bring about positive social change.
Image from Maxpixel (Free for commercial use / CC0 Public Domain)
Image Reference: https://www.maxpixel.net/Art-Sand-Castle-Sand-Sculpture-1439970
What's new at WeRIndia.com