Swaradhar helps beggars turn singers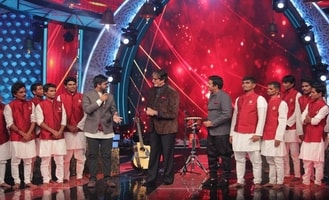 Several people might have found beggars on streets singing a popular song of their local language. Most of them do not care about it.
But, Hemlata Tiwari is not like that. She enjoyed their singing. She also identified their talents.
She started Swaradhar, a music troupe with these street singers.
Hemlata, a 27-year-old Mumbaikar happened to listen to the voice of these street singers while travelling in a local train.
At that time, she was going to a musical night. Observing the difference between the singing of stage singers and street singers, Hemlata thought that street singers could perform if they are given support.
However, the idea came live after two years as several people opposed her idea of supporting street singers.
She brought some of the street singers and formed a group. These singers have been given training to perform on various stages including Ganapati pandals, functions, and stage shows.
These singers were also invited to perform on television programmes. These singers got a reputation as 'artists' from 'beggars'. They are now leading a good life.
In the beginning, when the beggars were asked to join Swaradhar, most of them rejected. But, now today, it has more than 500 artists.
Swaradhar has conducted over a hundred shows so far and the audience received the singers very well.
They are earning ₹35,000 to ₹45,000 per show. This amount will be given to the team that performed in the show.
In addition to that, Swaradhar has some CSR partners. They help artists. However, the packages vary depending on the needs of the clients.
Currently, Hemlata is trying to work on this model in Delhi as well.
Recent Posts

Amla Magic: 8 Ways Indian gooseberry transforms your hair

Here are 8 effective ways to incorporate Amla into your hair care routine.

BJP's Ishwar Sahu, a riot victim, triumphs in Chhattisgarh's Saja constituency

During the election campaign, Ishwar Sahu did not shy away from addressing the tragic events.

Bhopal's Sankat Mochan Hanuman temple dresses Gods in warm attire

In a unique and heartwarming gesture, the Sankat Mochan Hanuman Temple in Bhopal, Madhya Pradesh, has adorned idols of gods, including Lord Hanuman, Lord Ganesh, and Lord Shiva, with warm clothes to shield them from the cold winter air. A video capturing this thoughtful act shows the deities donning shawls and cozy attire inside the temple, reflecting a blend of spirituality and seasonal care.
What's new at WeRIndia.com