RAD Living – A premium brand for scented candles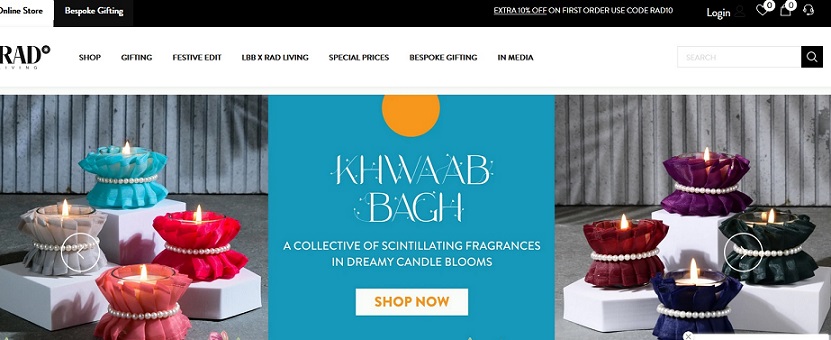 Scented candles relax the brain and relieve stress. Vineet Arora used to use diffusers and aromatic candles while meditating.
During the lockdown, when he tried to get more variants of candles, he realized that there were not many variants in the market. He observed that there was good potential in the scented candle business.
Hence, Vineet decided to launch his own brand to sell scented candles. Having been familiar with the soothing benefits of aromatic oils, Vineet wished to start his venture of scented candles.
That's how his premium scented candle brand, RAD Living, was born. Vineet's mother, Seema Arora, also joined him in the venture. The mother and son started their operations from their home. Now, it has an office and production facility in Noida.
The duo started making different variants of scented candles at their home during the lockdown. Within one and a half years, the startup generated a revenue of ₹85 lakhs.
Seema was behind the success of the business. Her dedication and constant efforts helped them reach many people. This Noida startup offers premium scented candles.
RAD Living introduced different varieties of candles. It also offers gift boxes to be gifted to people. It differentiated the startup from other existing brands.
The startup offers customized scented candles to cater to the needs of various segments like gym freaks, travellers, food lovers, bathroom singers, and many more. That's why their candles are the best sellers in the market.
Now, the startup has nearly 200 SKUs. RAD Living adds new variants four or five times a year. It works on the D2C model.
The price of candles ranges from ₹700 to ₹2,500. Gift boxes are also available in various price ranges up to ₹9,000.
Apart from selling on its website, RAD Living sells products in physical stores. Currently, they are available in Goa. The startup aims to expand it to 100 stores by next year.
Image Credit: Radliving Website Screenshot
Image Reference: https://www.radliving.in/
What's new at WeRIndia.com