Self-less services of an auto driver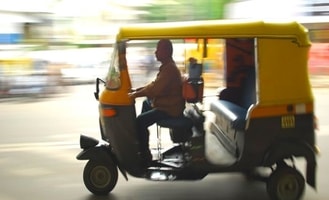 Babu Muddrappa, a 29-year old is a self-less auto driver in Bengaluru. He is sincere and honest. He returned his passenger's wallet who lost it in his auto. He hardly refuses to a ride to any passenger.
Babu saw a woman suffering from labour pains when he was returning from the railway station after dropping a passenger.
It was around 2:30 in the afternoon and there is no one nearby to hear the cries of the woman.
Empathetic to the condition of the woman, he took the woman to a hospital where the hospital staff denied to treat her.
Then, Babu took her to the C V Raman hospital. He did not know anything about her except her name. She said her name was Nanditha.
As the woman had no relatives and friends with her, Babu had to fill the admission form for her delivery. She delivered a baby girl at around 9:30 p.m.
Babu's services have not ended with her delivery as it a premature delivery and baby is suffering from severe breathing problems.
Babu took the baby to another hospital and admitted her following all admission formalities of the hospital.
He reached home in the wee hours of the morning. He again visited the CV Raman hospital to check the health condition of the mother.
Then, Babu came to know that Nanditha had fled. He did not know what to do. But, he visited the baby and looked after her. Babu was terrified at first. But, his wife supported him. She even wanted the baby to be adopted.
He bought all the required medicines for the infant. But, after 18 days, the baby died.
Babu was sad for many days as he thought of the baby as his own child. He lodged a complaint in the police station against Nanditha, the mother of the baby who had abandoned her.
Image Reference: Thebetterindia
Recent Posts

Amla Magic: 8 Ways Indian gooseberry transforms your hair

Here are 8 effective ways to incorporate Amla into your hair care routine.

BJP's Ishwar Sahu, a riot victim, triumphs in Chhattisgarh's Saja constituency

During the election campaign, Ishwar Sahu did not shy away from addressing the tragic events.

Bhopal's Sankat Mochan Hanuman temple dresses Gods in warm attire

In a unique and heartwarming gesture, the Sankat Mochan Hanuman Temple in Bhopal, Madhya Pradesh, has adorned idols of gods, including Lord Hanuman, Lord Ganesh, and Lord Shiva, with warm clothes to shield them from the cold winter air. A video capturing this thoughtful act shows the deities donning shawls and cozy attire inside the temple, reflecting a blend of spirituality and seasonal care.
What's new at WeRIndia.com