This rural woman earns ₹70,000 per month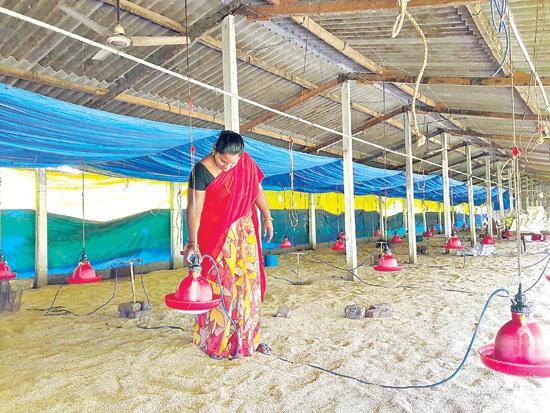 When Jyothi wanted to do agriculture and setup a poultry farm, she was discouraged by her friends and relatives. They said that how a woman can succeed in these 'men's jobs'.
But, Jyothi was not discouraged with such words as her financial condition forced her to do any job that can feed her.
Hailing from a small village in Warangal, Jyothi realized that her husband, who is a construction labourer cannot alone earn sufficient money for their livelihood.
Her husband used to do farming when he did not get work in the construction. It was very difficult for the family to repay the loans that are done for agriculture.
At that time, Jyothi wanted to aid her husband to improve their family income. She came to know that a dairy unit would be established at their area.
She applied for a job in it and started her journey with ₹3,000 per month. She found that milk collection at their area was very low as farmers used to sell their milk to hotels and other business entities.
She asked them to sell that milk to her dairy unit so that they can get more money than they were earning. But, they refused.
Then, Jyothi bought three buffaloes by obtaining loan from the dairy unit where she was working.
She used to feed the cattle in her own farm with the fodder. Several people criticized her efforts.
But, she never cared about such comments and criticism. She repaid the loan and had taken another loan with which she bought five more buffaloes.
She sustained in the dairy industry and received the appreciation of the people who criticized her earlier.
Then, she focused on establishing poultry farm and setup it with loan. Initially she experienced some losses due to lack of awareness. Yet, after correcting her mistakes, she recovered financially.
She even started aqua culture. She created opportunities and combated all the challenges with courage.
As a result, she succeeded in all the fields. She repaid all her loans. Now, she is earning ₹70,000 per month.
Image Reference: Eenadu
Recent Posts

The government rolled out the ONDC initiative in

The function of the salivary gland is impaired

Shubham Saini runs a tea stall named Frustrated
What's new at WeRIndia.com