Paraplegic sets records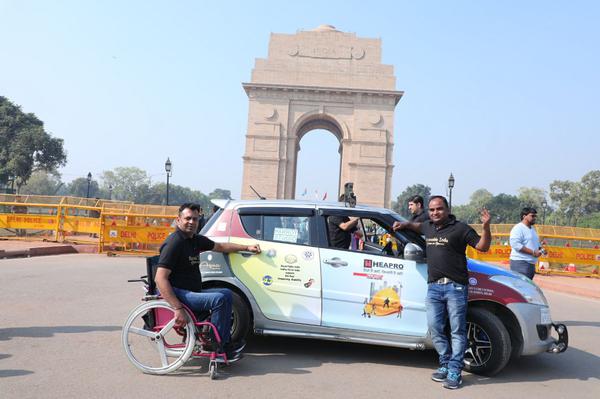 Eric Paul had been obsessed with cars ever since he was a young boy. In 1998, when Eric was ten, his parents bought a Maruti 800 as a surprise for him.
He learned how to drive when he was only 14, which he did by observing his father. Although his father allowed him to drive short distances, he insisted that Eric get a license before driving for real.
Eric even applied to the RTO six months early in order to get the license exactly on his 18th birthday.
His happiness only grew when his father switched cars to a Wagon R and gave Eric the Maruti 800 as his own.
Eric's family bought an SX4 in 2009, Eric's dream car. However, three years later, Eric experienced the worst nightmare of his life in that very vehicle.
When Eric was driving on a highway, another driver ran through a red light and crashed into Eric in the SX4, leaving him paralyzed from the chest down. He was bedridden for a year, receiving multiple surgeries and spending time in the hospital for months on end.
Eric underwent severe depression for a year, recovering mentally over time. He went back to his old job, and began to rebuild his life piece by piece.
People around Eric would blame his car obsession for his accident and his current paraplegic condition.
However, Eric's father and brother-in-law discovered that there is, in fact, an option for paraplegic people to drive. They modified their car, and gave Eric their hand-customized Maruti Swift.
Eric decided to participate in sports, such as table tennis and javelin throwing, using his newly-customized car to travel back and forth for his various tournaments.
Eric soon learned about the Limca Book of Records, and decided to venture out on the driving expedition tasks of the Limca Book.
He undertook his first expedition, the Golden Quadrilateral, in which he drove to five metropolitan cities. He then took a second expedition from Leh to Kanyakumari.
Eric has not only done these road expeditions for his own pleasure, but he has also been using them to promote his campaign, Accessible India, which pushes to make the country friendlier and accessible to people with disabilities like Eric.
His latest feat is his greatest: driving across the entire breadth of India, from Tezu in Arunachal Pradesh to Koteshwar in Gujarat.
The drive was 3697 kilometers long and would take over 4 and a half days to complete, but that did not deter Eric from taking on the entire ride.
With his Accessible India campaign and his inspiring determination to continue pursuing his passion in spite of all odds, Eric is certainly making his voice known in his advocation for the disabled.
Image Reference: Thebetterindia
What's new at WeRIndia.com