MA English Chaiwali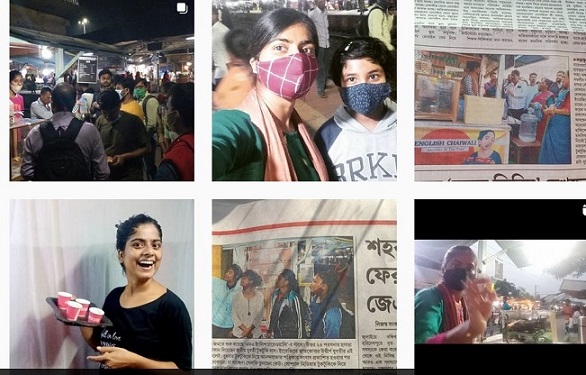 Many young people waste their time in search of suitable jobs after their education without exploring other ways. They have to face financial hardships during this course of time. Yet, they do not think of choosing an alternative job or work, at least for the time being. But, this Kolkata girl did not waste her time and chose tea selling after her education.
Tuktuki Das from Kolkata wanted to become a teacher. Her father, Prashanto Das, is a van driver. Her mother runs a small grocery shop. They used to say that education is important for status in society. They asked her to work and study hard for that. They also wanted her to see as a teacher.
Tuktuki Das listened to her parents. She studied hard and completed MA in English. However, she could not succeed in her attempts of getting a good job after her education. She did not want to waste her time in search of a job. She decided to open a tea shop, MA English Chaiwali, inspired by the story of MBA Chaiwala. She read his story on the internet.
Tuktuki's father was not happy with her decision as he wanted to see her as a teacher. But, Tuktuki convinced him, saying that there are no big or small works. She also says that any work that meets financial needs is good.
She became self-reliant and financially independent without wasting time for a job like many other educated people. Now, her father is also happy with her decision.
Tuktuki sells tea and snacks. She also runs her own YouTube channel with the same name, MA English Chaiwali. She recently started it. Some of her videos went viral. Several people visit her tea shop to encourage her. They appreciate her, saying that she chose an odd job even though she is well-qualified for a good job.
Image Credit: Tutuki Das Instagram page
Image Reference: https://www.instagram.com/tuktuki_chaiwali/
Recent Posts

A man from Goa built a robot to

A police clearance certificate (PCC) is essential to

Veena Malhotra from Gurugram made a herbal hair
What's new at WeRIndia.com