Jharkhand engineer makes sarees using water hyacinths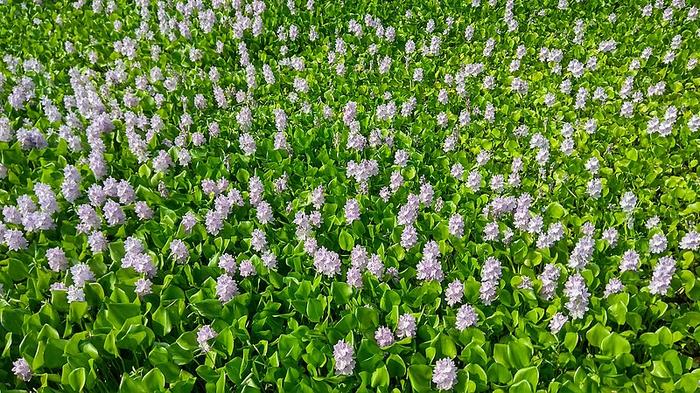 Water hyacinths are known as pollutants. They are being transformed into valuable resources in an initiative that aims to empower women.
Besides, it provides them with livelihood opportunities, and clean up waterbodies.
Gaurav Anand is the director of Swachhata Pukare, one of the NGOs involved in the project.
He revealed that a combination of fibre extracted from water hyacinths and cotton would be used to create fusion sarees as part of West Bengal's renowned 'Tant' saree tradition.
The goal is to produce a minimum of 1000 sarees initially, using fibre extracted from water hyacinths in a process similar to that used for jute fibre.
Swachhata Pukare has employed approximately 200 women o collect the water hyacinths. These women gather the plants from previously unused ponds in the Bongaon and Machhlandapur areas of West Bengal's North 24 Parganas district.
Once the plants are removed from the water, they are dried. Later, the thin fibre is extracted and processed to create fine threads.
These threads will be utilized to manufacture high-quality sarees in the designated areas.
To acquire the necessary technical knowledge, Swachhata Pukare has partnered with Naturecraft.
Naturecraft is another NGO that already produces various items like electric lamps, mats etc., from water hyacinths.
Anand mentioned that the organization is currently contributing voluntarily to the project, and the estimated cost exceeds ₹20 lakhs.
However, once full-scale production begins, he is hopeful that the women involved in the project will be able to earn a monthly income of ₹4,000 to ₹5,000.
In addition to empowering women and providing livelihood opportunities, this initiative will also contribute to the cleaning of waterbodies.
By removing water hyacinths from these water sources, they can be restored and utilized by the community.
Anand emphasized the dual benefits of creating valuable products from plants and simultaneously improving the environmental conditions of the waterbodies.
The innovative use of water hyacinths in the production of sarees presents a promising opportunity to empower women. In addition, it revitalizes local traditions and addresses the issue of water pollution.
By turning a pollutant into a valuable resource, this project demonstrates the potential for sustainable development and positive social impact.
Image Credit: ShahadatHossain, CC BY-SA 4.0, via Wikimedia Commons
Image Reference: https://commons.wikimedia.org/wiki/File:Common_Water_Hyacinth_Flower.jpg
What's new at WeRIndia.com